Assessment
Franklin Learning Outcome Assessment
The Ross College of Business Vision, Mission, and Objectives
Guided by the University's cornerstones, the Ross College of Business established its own Vision, Mission and Objectives to guide its decision and directions into the future. Under each objective, the College also set up specific action plans.
Outcome Assessment Plan
Each degree program at Franklin University has an outcome assessment plan that is aligned with not only the University's mission and cornerstones but also with the individual College's vision, mission, core values, and objectives. The Outcome Assessment Plan for the Ross College of Business lists learning outcomes for each degree program, how these learning outcomes are assessed, and how assessment data can be integrated into the planning and budgeting processes for the College.
Outcome Assessment Results
The Outcome Assessment Results document for the Ross College of Business provides a comprehensive report on the results of learning outcome assessment for each degree program and impacts of assessment findings on curriculum redesign and teaching.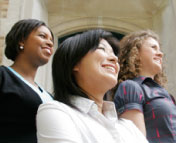 Ready to start an application?
Franklin's student-centered philosophy is one of the many reasons so many students choose us!
START YOUR APPLICATION