Consumer Information
Contact Information For Filing Complaints
Pursuant to 34 CFR § 668.43(b) (Code of Federal Regulations), an institution of higher education must "provide students . . . with contact information for filing complaints with its accreditor and with its State approval or licensing entity and any other relevant State official or agency that would appropriately handle the student's complaint." The table below provides links to this information for Franklin University's regional accreditor, the Higher Learning Commission, and the fifty states.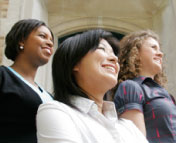 Ready to start an application?
Franklin's student-centered philosophy is one of the many reasons so many students choose us!
START YOUR APPLICATION