Consumer Information
6-Year Graduation Rates: 2006-2007 Cohort
At Franklin University, we are dedicated to serving our students and helping them to finish their degrees. Our updated student advising model and new student orientation provide students with the resources to find the information to be successful at Franklin.
Graduation Rates Explained
A "graduation rate" is the number of students who complete a degree program within the usual designated time period, plus 50%. Students pursuing a tradition four-year bachelor's degree would be expected to enroll and graduate within a six-year time period to be included in this general statistic.
Keep in mind – there are many variables influencing graduation rates. Program length, full – or part-time status, and transferring previously earned college credit from another institution can significantly shorten or lengthen an academic journey. Plus, since Franklin students balance finishing their degrees with work, family and other competing priorities, unexpected breaks are sometimes necessary to ultimately achieve academic success. Graduate-student graduation rate data is calculated by using a five-year time period. Students must complete all requirements for a degree within five years of completion of the first graduate-level course.
Fast Facts on Franklin Students:
Most Franklin students attend part time in the evenings or online
90% of students transfer credit from other institutions
Students may start programs in Fall, Winter, and Summer Trimesters – not just in the fall.
The federal government (IPEDS) requires Franklin to report on first-time, full-time students who begin in the fall term. However, standard reporting represents only 1% of our total student population. For a more accurate representation, we have provided six-year graduation rates for the Franklin student population as a whole (Fall Annual Cohort).
See How Franklin's Rates Compare
If you'd like a more thorough evaluation, and to compare Franklin with other colleges and universities, check out these helpful resources: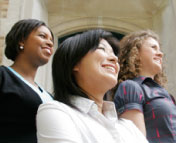 Ready to start an application?
Franklin's student-centered philosophy is one of the many reasons so many students choose us!
START YOUR APPLICATION