Consumer Information
Information For Crime Victims About Disciplinary Proceedings
Franklin University discloses, to the alleged victim of any crime of violence or nonforcible sex offense, the results of any disciplinary proceeding conducted by the University against a student who is the alleged perpetrator of such crime or offense. If the alleged victim is deceased as a result of the crime or offense, the information shall be provided, upon request, to the next of kin of the alleged victim.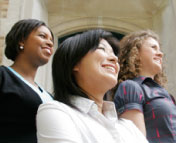 Ready to start an application?
Franklin's student-centered philosophy is one of the many reasons so many students choose us!
START YOUR APPLICATION