Placement in Employment
The Higher Education Act of 1965 (HEA), as amended by the Higher Education Opportunity Act of 2008 (HEOA), includes many disclosure and reporting requirements. One such requirement is that institutions of higher education must provide information regarding placement in employment, and types of employment, obtained by graduates.
Franklin University's Center for Career Development offers a variety of services to students, but – because the university's student body is primarily composed of adult learners who are already employed – does not provide placement assistance. Consequently, no placement or employment data is available.
Students receiving Franklin University degrees pursue diverse career paths in business, technology, health management and other professional fields.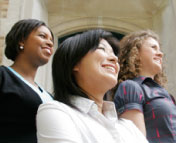 Ready to start an application?
Franklin's student-centered philosophy is one of the many reasons so many students choose us!
START YOUR APPLICATION