Consumer Information
Franklin University's Plan to Effectively Combat Copyright Infringement
Links to Relevant Web Pages
Franklin University provides information on its commitment to respect and protect the copyrights on materials that are available on the Internet and on the University's Intranet. Information about the University's policies is provided in the Academic Bulletin which is published once a year. In addition, details on those policies are part of the Student Code of Conduct, Acceptable Use Policy, Copyright Compliance, Franklin University Library Acceptable Use Standards, and online copes of the Academic Bulletin.
Technology-Based Deterrents
Franklin University actively blocks Peer-to-peer file sharing between the Internet and the campus network using features in its web filter content. Further, the University detects and blocks Peer-to-peer communications using sensors on its network.
Other Deterrents
Franklin University requires all new undergraduate students to attend a Professional Foundations course (PF321) and all graduate students to attend an Effectively Communicating and Collaborating couse (GRAD 703) upon enrollment. These courses cover a student's responsibility to honor the copyrights associated with material they acquire and use.
Students who have been found in violation of copyrights by University faculty or staff have their cases reviewed in an expeditious manner in accordance with Franklin University's Procedures for Student Misconduct Complaints (see the Student Code of Conduct).
Notices filed under the Digital Millennium Act (DMCA) are processed in the same manner as copyright violations reported by University personnel.
Plan Review
On an annual basis, during the time Franklin University undergoes an independent financial audit of its IT information controls, the Information Security Officer will meet with the Vice President for Institutional Compliance to review the effectiveness of the copyright protection plan. The number of reported copyright violations, the changes in technology for sharing content, and the general awareness of the campus community are considered. If the number of incidents suggests that the current measures are losing their effectiveness, modifications to the plan will be pursued and implemented.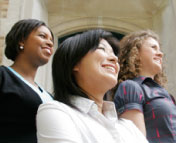 Ready to start an application?
Franklin's student-centered philosophy is one of the many reasons so many students choose us!
START YOUR APPLICATION