Consumer Information
Retention Rates
The National Center for Education Statistics (NCES) – which collects and reports data on U.S. higher education through IPEDS, the Integrated Postsecondary Data System – measures the rate at which students persist in an educational program. For four-year institutions, this is the percentage of first-time, full-time students from the previous fall term who are again enrolled in the current fall term.
The one-year retention rate reported to IPEDS is currently 32% for first-time, full-time students. This population represents less than 4% of the total number of new undergraduates who enrolled in the 2008 – 2009 academic year. This statistic is not reflective of the typical Franklin University undergraduate, who is a working adult attending part-time and transfers in course credit from a community college and/or another four-year institution.
The chart below reflects the one-year retention rate for all Franklin University students. This is a more accurate reflection of the achievements of the entire student body.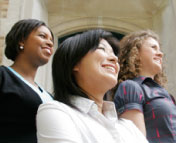 Ready to start an application?
Franklin's student-centered philosophy is one of the many reasons so many students choose us!
START YOUR APPLICATION