Retention Rates
One-year retention rates reported to IPEDS are currently at 32% for first-time full-time students and reflect those first-time full-time students who returned the following fall term. The population represents less than 4% of the total number of new undergraduates who enrolled in 2008-2009. The majority of students at Franklin University attend part-time transfer credit hours from other institutions, work, and have significant responsibilities including family issues, civic interests, work-related travel, etc. It is not unusual for these obligations to interfere with students' progression in their pursuit of higher education. Franklin University has adopted a comprehensive student success initiative designed to support all students with finishing their degrees.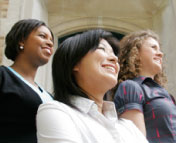 Ready to start an application?
Franklin's student-centered philosophy is one of the many reasons so many students choose us!
START YOUR APPLICATION