Consumer Information
FIAT: The Franklin Intervention & Awareness Team
Overview & Mission
The primary mission of the Franklin Intervention & Awareness Team (FIAT) is to promote the health and safety of our students, faculty, and staff by creating an environment where development and education are bolstered by caring intervention, thus ensuring a place where individuals are free to work, learn, and teach without disruption or threat of intimidation or harm.
FIAT is Franklin's centralized resource for creating awareness of inappropriate behavior within the University community. Integral to this awareness is developing Franklin's culture of information sharing, which creates an opportunity for FIAT to assess and intervene as appropriate with supportive services.
Therefore, a key element to the FIAT primary mission of maintaining safe environments is to provide our University with training and education regarding inappropriate behavior, including how and when to report.
FIAT is a cross-functional team of senior leadership comprised of both faculty and administration. A legal consultant and a licensed psychologist are also part of the team.
In addition, FIAT may identify Student Code of Conduct Hearing Officers or other University officials to participate as required by the nature of an incident under FIAT review.
Student Code of Conduct
One avenue FIAT utilizes to address some student behavior concerns is the process of resolving Student Code of Conduct (SCOC) violations. This involves the review of a student incident by an SCOC Hearing Officer who gathers and reviews relevant information, including information obtained from the student, often in a face-to-face meeting.
Outcomes of SCOC incident reviews may include:

• A recommendation for continued monitoring of student progress and behavior
• Referral to the Coaching Program
• Referral to community resources for assistance with mental health and other needs
Coaching Program
Based on information received about a student, referral to the Coaching Program may be provided to the student for support with adjusting to college-level expectations including time management, organizational skills, and
goal achievement.
Employee Assistance Program (EAP)
In response to concerns involving employees, FIAT may advise that faculty or staff members use the Employee Assistance Program whenever it is deemed to be an appropriate resource for addressing employee needs.
FIAT's awareness of and response to inappropriate behavior is dependent upon the sharing of information. You are encouraged to use MySafeCampus to provide information about any situation that you believe may be of concern.
This tool allows for anonymous reporting and the information is routed to the appropriate area. For example, information about students is routed to the Dean of Students, while information pertaining to employees is routed to the Vice President of Human Resources.
For more information about FIAT, contact the Dean of Students or the Vice President of Human Resources at 614.797.4700 or 1.877.341.6300.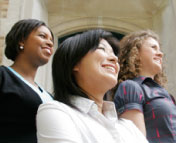 Ready to start an application?
Franklin's student-centered philosophy is one of the many reasons so many students choose us!
START YOUR APPLICATION