Faculty Profiles
Bonnie Smith Quist
Bonnie Smith Quist
Vice President, University Advancement and Strategic Relations
quistb@franklin.edu
Bonnie Smith Quist has served the faculty, staff and students of Franklin University for 24 years, with a focus on advancing the University's higher-level initiatives and strategic relationships. As Vice President for University Advancement and Strategic Relations, Quist serves as a member of the President's Leadership Team, and is responsible for Development, Alumni Relations, Board of Trustees Engagement, and management of other key strategic relations. Prior to joining Franklin, Quist was a Retail Advertising Account Executive with the Columbus Dispatch. Quist earned a Bachelor of Science in Applied Communications and a Master of Science in Marketing & Communication from Franklin University.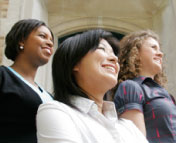 Ready to start an application?
Franklin's student-centered philosophy is one of the many reasons so many students choose us!
START YOUR APPLICATION