Christi Cabungcal
In her role as Franklin University's Vice President for Human Resources, Christi Cabungcal is a member of the president's cabinet and works to support the achievement of organizational goals by aligning human capital strategy with the University's mission and strategic plan.
With more than 17 years of progressive leadership experience and a strong orientation toward employee engagement and professional development, Christi partners with University leadership to promote a culture of collaboration and empowerment. She encourages others to motivate, challenge and support team members and colleagues.
Christi is an active member of the Human Resources profession and participates in key organizations that include the College and University Professionals in Human Resources, the Society for Human Resources Management, and the Human Resources Association of Central Ohio. Her innovative approach to Human Resources is highly respected and has led to her involvement in major Franklin University initiatives that include the Re-accreditation Steering Committee and the Strategic Plan Steering Committee. She is the Chair and founder of the Policy Review Committee.
Christi's previous experience includes leadership roles with Sears, Roebuck and Co., Tailored Management and MacTools. She earned a Bachelor of Science degree in Psychology as well as a Master of Business Administration, both from Otterbein College. She supports her community as a member of the Mid-Ohio Foodbank's Kitchen Cabinet, HRACO's mentor program and her role as an executive board member of the American Council on Education's Ohio Women's Network.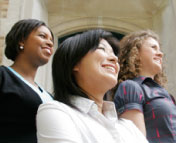 Ready to start an application?
Franklin's student-centered philosophy is one of the many reasons so many students choose us!
START YOUR APPLICATION