Faculty Profiles
Klaus Haberich
Dr. Klaus Haberich joined Franklin University in 2008 and serves as Senior Vice President of Planning and Global Programs. Haberich is responsible for leading the University's International Partnerships Initiative, International Student Services, and Center for Professional Training & Development. Prior to joining Franklin, he served as Dean at the New York Institute of Technology, United Arab Emirates campus. Haberich has over 30 years of experience in the financial industry and higher education, both in the USA and internationally. He holds a B.A. in Economics from the Universite de Geneve, Switzerland, an MBA from University of Rhode Island, and a doctorate from the University of St. Gallen, Switzerland. Haberich has been published in the Journal of General Management and Worldscene, among others.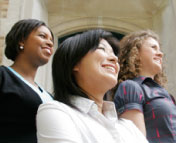 Ready to start an application?
Franklin's student-centered philosophy is one of the many reasons so many students choose us!
START YOUR APPLICATION