Faculty Profiles
Marv Briskey
Marv Briskey
Senior Vice President & Chief Financial Officer
marv.briskey@franklin.edu
Marv Briskey joined Franklin University in 2006 as the Chief Financial Officer, providing both strategic operational and programmatic support, and financial stewardship oversight of all operations to ensure the financial integrity of the University. His professional experience includes directing financial planning and analysis in a software development environment, as well as directing the planning, budgeting, and analysis areas for a division of telecommunications companies, AT&T, and Verizon. Briskey holds an MBA from Capital University and is a licensed CPA. He is the Treasurer of the Franklin University Board of Trustees, a Planning Committee Member of the Business Officers at Ohio Foundation of Independent Colleges, and is an active volunteer in church outreach activities.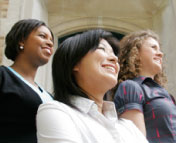 Ready to start an application?
Franklin's student-centered philosophy is one of the many reasons so many students choose us!
START YOUR APPLICATION