Four Cornerstones of Educational Philosophy
Adapting to the needs of students
Adapting to the needs of students
A cornerstone of Franklin's educational philosophy
Franklin University students are diverse in many respects, including work and life experience. Working adults can find a traditional full-time academic schedule to be restrictive, and therefore their needs are different from those of a traditional student.
With over 85% of graduate and 75% of undergraduate students working full-time while attending Franklin, the institution demonstrates its ability to respond and adapt to real-world needs by making the attainment of bachelor's and master's degrees possible for anyone so motivated.
Busy working adults need and expect convenient, efficient, and friendly services as they relate to their educational experiences. Keeping the needs of students at the forefront of Franklin's operations is reflected in the following strategic objectives:
Make educational opportunities widely accessible through flexible delivery systems and schedules

Provide educational programs that will increase students' employment or promotion potential

Offer undergraduate and graduate degree programs, general education, services, and activities to enhance the academic and personal development of students.
Therefore, the University is committed to providing what the students need, when they need it. This includes receiving timely responses for admission decisions, transfer credit evaluations, and financial aid eligibility notices, as well as providing multiple options for where and how courses are delivered – in both face-to-face and online formats.
---
Student Services
Library
Student Learning Center
Help Desk
Further Adaptations
Online Students
Community College Alliance (CCA)
Military Students
Suburban Locations
Grounded in Franklin's commitment to quality service and dedication to its mission, the University was one of the first educational institutions to adopt a relationship management philosophy. Focused on student services, this student-centered approach has become a focal point for Franklin since the mid- 1990s.
By expanding the traditional student advisory role, the Academic Advisor provides assistance with course selection, registration, financial aid processes, and/or tuition payment options, while also serving as a central source for other University services.
Collectively, the staff in the Paul J. Otte Center for Student Services, located on Franklin's Main Campus, is available to provide the following services to both on campus and online students:
Assistance with administrative processes and academic advising
Advice concerning majors, education and career goals
Updates on progress and graduation requirements
Information regarding academic records, grade reports, and transcripts
Guidance with financial aid (payments, tuition fees, scholarships, loans)
Support for students who are veterans
Answers to questions regarding textbooks and educational materials
Direction through an internship process
The Franklin University Nationwide Library serves the entire Franklin constituency, including students and faculty in central Ohio and beyond. It supports student learning and effective teaching by providing services and resources to meet the information needs unique to working adults and distance students. The library's website provide access to expansive online resources, and qualified academic librarians are available by phone, instant message (IM), and email seven days a week to provide professional reference assistance. The current library collection includes more than 18,000 in-house holdings (which include books, audio recordings, videos, and print serial subscriptions), over 140,000 eBooks, and millions of articles housed in over 130 different electronic databases (current data available on our Fact Sheet).
We value you and your time and encourage patrons to use the Summon search box (learn more about Summon) for instant access to materials available to you through Franklin University Nationwide Library.
All students have access to the Student Learning Center (SLC). The SLC provides services and resources designed to empower students to become successful learners, including on campus and online tutoring, academic workshops, placement testing, proficiency testing, and proctor and course testing.
The University Help Desk provides technical assistance for students accessing course websites or other University technology. The Help Desk staff addresses email, course software, and system response and escalation. Across all technology user contacts – including students, faculty, and staff – the Help Desk resolved 70% of all support requests upon first contact.
Students have access to course instructors, lead faculty, and program chairs for academic support.

Franklin maintains flexibility in course scheduling and delivery modes (on campus and online).

The Balanced Learning Format allows students to evenly distribute their academic workload over the duration of the course, making it easier to balance an education with other work and life commitments.

Each course has its own Web site through which students have on-demand access to course materials prior to the start of the course, as well s while they are enrolled in the course.

Graduate students' foundational skills are assessed upon entering a master's program and students are provided with the resources to enable them to build the competencies necessary for academic success.

When classes reach the maximum number of students admitted, rather than closing students out of that course, whenever feasible, another class section is opened to meet the demand.

Annually, the University makes significant commitment of resources to support the curriculum development approach and the development of multimedia resources for inclusion in Franklin courses.
In 1997, Franklin University offered its first online courses. As online enrollment grew, it became apparent that the University had two distinct categories of online students: those who entered Franklin through specialized initiatives (i.e., the Community College Alliance and eArmyU/GoArmyEd) and those primarily from the central Ohio area who chose to take courses online (referred to as "Other Virtual Campus" or OVC students). OVC students often take a combination of online and face-to-face classes. By the 2006-20007 academic year, online credit hours accounted for 58% of the University's total credit hours. In fact, one-fourth of the graduating students who received their diplomas from Franklin at a recent Commencement Ceremony represented the growing population of Franklin's students who earn their degrees exclusively online.
Community College Alliance (CCA)
To serve students beyond central Ohio, Franklin University created the Community College Alliance (CCA) in 1998. Through an articulation agreement, Franklin joins with community and technical colleges to provide a streamlined process for students to earn a bachelor's degree through preparatory and completion courses. Students earn an associate's degree at their local community college through the alliance and transfer credits to Franklin University. To begin the CCA Program, these students typically take additional completion (bridge) courses at their community colleges, then complete the final credit hours required for their bachelor's degree online through Franklin. Currently, there are more than 245 community colleges in 32 states in the CCA Program.
In 2001, eArmyU (an e-learning program within the GoArmyEd portal) chose Franklin University as one of the 29 initial higher education institutions to provide online access to education for enlisted soldiers. In 2006, the GoArmyEd portal expanded from 29 to 135 institutions that offer courses either through the eArmyU program or the traditional Army Tuition Assistance that is available to all military personnel, and Franklin remained a preferred education provider of the program.
Franklin University expanded its military association when the University signed a partnership with the Army National Guard (ARMG) Education Support Center (ESC) in 2004. The ESC is located in Little Rock, Ark., and has been operational since November 2002.
Franklin responds to the needs of working adults who live or work in areas outlying Columbus who may find the travel time to Franklin's Main Campus inconvenient. The University operates off-site locations in the suburbs of Dublin, Westerville, and Delaware, Ohio, where courses are taught on weekday evenings. The Dublin location serves more than 1,000 students annually, offering placement testing and make-up exams, in addition to classes and labs. The Westerville location serves 700 students each year, while the Delaware location opened in November 2007.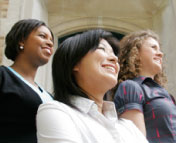 Ready to start an application?
Franklin's student-centered philosophy is one of the many reasons so many students choose us!
START YOUR APPLICATION