The History of Franklin University
Making higher education possible for adult students since 1902
Franklin's original mission was to make education, success, and a piece of the "American Dream" possible for everyone. Franklin has kept this promise for more than 100 years – and expanded this hope to students from all walks of life, from all around the world.
Franklin University was founded in Columbus, Ohio, in 1902 under YMCA sponsorship as the School of Commerce. As a leader in meeting the needs of busy adult students, Franklin University has grown to serve more than 11,000 students each year – from all walks of life, all across the country, and all around the world.
Highlights in Franklin History
1902 - Courses offered at the Columbus YMCA are formally brought under the YMCA School of Commerce
1933 - The YMCA School of Commerce is renamed Franklin University
1964 - Franklin makes an amiable separation from the YMCA
1969 - Franklin celebrates the opening of its first building, Frasch Hall
1976 - Franklin earns accreditation by the North Central Association of Colleges and Universities
1993 - Franklin launches first graduate program (MBA)
1998 - Franklin forms the Community College Alliance
2002 - Franklin celebrates its 100th anniversary
2006 - Franklin earns a "Best Buy" designation from GetEducated.com
2007 - Franklin establishes the Four Cornerstones of Educational Philosophy
2008 - Franklin Earns Top Military Friendly College & Universities Honor
2009 - Franklin opens first out-of-state location in Indianapolis
2009 - Franklin introduces on-campus international offerings in Macedonia and Poland
What's new for Franklin? Catch up on the latest Franklin news by viewing our press releases.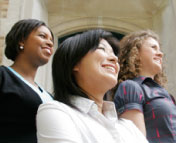 Ready to start an application?
Franklin's student-centered philosophy is one of the many reasons so many students choose us!
START YOUR APPLICATION