Standards of Academic Progress for Financial Aid
Financial Aid Policy - Standards of Academic Progress for Graduate Students
Students receiving federal Title IV aid must make satisfactory academic progress (SAP) in order to maintain their eligibility for financial assistance. To meet the standards of SAP, you must meet or exceed minimum academic performance levels in both qualitative and quantitative standards each trimester.

Grade Point Average - Qualitative Standards
You must maintain a minimum Cumulative Grade Point Average (CGPA) of 3.0.
Pace - Quantitative Standards
You must be progressively working towards completion of your degree. You are measured on your hours attempted vs. hours successfully completed. You must successfully complete a minimum percentage of hours attempted based on the following chart.
| | |
| --- | --- |
| Attempted Hours | Required Completion |
| 0-12 | 50% |
| 13 or more | 67% |
Maximum Time Allowed for Completing a Program – Quantitative Standards
You must complete your degree in a reasonable amount of time as outlined in the regulations. If you are enrolled in a graduate program you cannot exceed five calendar years to complete your degree. A student who is exceeding the max-time-frame will be automatically withdrawn from federal aid and is required to submit an appeal.
What happens when I do not meet the SAP?
If you do not meet one or more of the SAP standards, a WARNING status will be assigned for one trimester. You will maintain your aid eligibility during this warning period.
If by the end of the WARNING period (one trimester) you have failed to meet any of the qualitative or quantitative requirements, your status will be changed to WITHDRAWN and no further federal aid will be disbursed.
You may appeal a WITHDRAWN status if there were documented extenuating circumstances that prevented successful academic progress.
If an appeal is approved, your file will be updated based on individual circumstances to either PROBATION for one term or in certain circumstances an ACADEMIC PLAN for three terms. It is up to the discretion of the SAP Committee to determine which status will assist each student in their academic success.

What happens when my SAP status is WARNING, PROBATION or ACADEMIC PLAN?
Each trimester that you are on WARNING, PROBATION or ACADEMIC PLAN status, you are required to:
Successfully complete all hours attempted in any course for which tuition charges are assessed, or successfully complete at least 12 attempted hours (if attempting more than 12 hours).
Increase your GPA in order to maintain the required minimum GPA for your grade level by the end of the probation period.
Meet all other SAP requirements or any other terms/conditions set by the institution, such as taking a reduced course load or enrolling in specific courses.

How do I regain financial aid eligibility when SAP WITHDRAWN?
Regaining eligibility for Title IV aid may occur in one of the following ways:
Submit an appeal - An appeal will only be approved based on documentable extenuating circumstances that affected your ability to be successful. Extenuating circumstances, in general, were unknown, nonexistent, or unpredictable prior to the trimester in which you were withdrawn from Title IV aid. The Standards of Academic Progress Appeal Form is available at the bottom of this page.
If you do not have a legitimate appeal circumstance, you may pay all expenses out of pocket while you attempt to regain federal financial aid eligibility. You may submit a subsequent appeal when:
a. You have successfully completed any deficient hours and/or increased your GPA to the required level for your academic rank; or
b. You have completed at least two trimesters and satisfied your SAP requirements.

Standards of Academic Progress Appeal
Students withdrawn from federal financial aid due to Pace or GPA are able to appeal the withdrawn status due to extenuating circumstances. Those withdrawn due to Max Timeframe can appeal by requesting that a review be completed to determine the applicable credit hours that apply towards current degree requirements.
Process for a SAP Appeal:
You will receive notification via email indicating a withdrawn status from financial aid.
You are required to submit a completed SAP Appeal to Financial Aid (FA) in order to re-establish financial aid eligibility.

You can submit an appeal by email, fax, or mail to the FA office or by turning the appeal into the Franklin University Welcome Center located in the Student Services building.

Elements Required in Appeal:

Letter of explanation detailing:

The nature of the difficulty that led to the inability to meet SAP.
Statement indicating how your circumstance has been resolved and what measures will be/have been taken to ensure academic success.

Third-party documentation – you must submit information to the FA office that verifies the nature of the difficulty that caused you to become withdrawn.

Documentation that is not consistent with applicable timeframe or is found to be fraudulent will not be considered.
Examples of third-party documentation for a SAP appeal include: letter from physician/psychologist, police report, employer documentation, divorce decree, legal records, obituary, death certificate or funeral announcement.

In the case of 150% max timeframe appeal:

You must include a letter indicating that the FA office has permission to obtain a degree audit from the your Academic Advisor.
The statement must also include information as to why it has taken you more than the allotted time to complete the degree.
To view or print this appeal form, click here: Standard of Academic Progress Appeal Form
updated 4.23.12

This feature is intended for Financial Aid questions.
Testimonials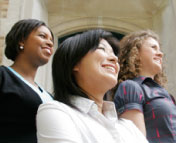 Ready to start an application?
Franklin's student-centered philosophy is one of the many reasons so many students choose us!
START YOUR APPLICATION