Financial Aid Awarding Process
Once all documentation has been received, the Financial Aid office will process your file in dated order as received. In general, your files will be processed in approximately 15 days after receiving all required documentation. However, processing times may vary depending on the time of year. If you were selected for verification, the process may take a little longer.
Your award letter will notify you of your aid eligibility. The aid awarded is based on the hours of enrollment listed on the Award Letter, your financial aid Standards of Progress status, and award code explanations. If you are eligible for loans, it will also include a link to the Master Promissory Note. Please read your Award Letter thoroughly and view the Terms of Award below.

If your enrollment hours change, your eligibility for programs and/or aid amounts may also change.
You may view your Award Letter in one of the following ways:
Online through your myFranklin Account - If you have a myFranklin account, you will receive an email notification that your Award Letter has been processed and is available to view online.
Go to myFranklin and login
Click on the Shortcuts Tab and then on WebAdvisor
Under the Financial Aid section, click on Financial Aid Award Letter
Select the appropriate year and follow the instructions to access and submit your Award Letter
Note: if you have trouble viewing, try using Internet Explorer as your browser
Paper Notification - If you do not currently have a myFranklin account, you will receive your Award Letter by mail.
Below are important facts about your Award Letter.
Grants are automatically accepted on your behalf.
Loans will only be processed once you have accepted them on your Award Letter. See the next section on Loan Acceptance.
Visit the Loan Process page if you are a first-time borrower of federal student loans, or a first time borrower at Franklin University. There are two federal requirements you must complete. 1) Student Loan Entrance Counseling; and 2) Master Promissory Note (MPN) for Federal Direct Stafford Loans
See Types of Financial Aid for program eligibility requirements.
Loan Acceptance:
Follow the instructions provided on your Award Letter which you will receive by one of the following methods.
Online through myFranklin - You will receive an e-mail notification informing you your Award Letter is viewable online. After viewing and reading the Important Comments Section on your Online Award Letter, scroll down to the Loan Acceptance section. There will be two options presented for submitting your online Award Letter. Carefully follow the instructions for the option you select.
Paper Award Letter Notification - if you received your notification by mail, review your Award Letter and follow the instructions on how to accept or reject your loan awards. You MUST accept/reject your loan awards, sign, and return the Award letter by mail, fax, or email.
How to Read Your Award Letter
Your financial aid is based on information you provided on your FAFSA. It is your responsibility to ensure the accuracy and completeness of the information on every FAFSA transaction.
Financial Aid Standards of Academic Progress Status:
This is the current status of your academic progress for financial aid.
Enrollment Hours:
Aid is based on the hours of enrollment listed.
Changes in your enrollment may impact your aid.

Code Definitions
A: Award is complete.
C: Award canceled.
E: Funds that are not transmitted by the Financial Aid office but are included in the estimated financial assistance.
G: Award is a tentative amount. Amount of funds are pending State of Ohio or Federal government budget approval.
H: Hold until eligibility is determined.
N: Not enrolled in sufficient hours to receive funds.
P: All Direct Subsidized and Unsubsidized Stafford Loan funds placed into this status until an Award Letter has been received/processed.
R: Rejected by you.
S: Award Accepted Online
T: Indicates your last term of eligibility.
W: Withdrawn from Federal Title IV eligibility.
Z: Federal restrictions have been placed on your account but state funds are still applicable.
Important Comments
See the important comments printed at the bottom of your Award Letter. Further action may be required.

Special Circumstances
If you have circumstances that were not reflected in the FAFSA process, you may have the right to appeal. Contact us at 1.877.341.6300 to review your situation and receive appeal information.

Revisions and Cancelations
The University reserves the right to review, revise, or cancel an award at any time.

Aid Notes
A Federal Work Study award is not a guarantee of employment or financial aid.
Federal student loans listed on the Award Letter are gross amounts. The actual funds received may be less due to fees assessed by the lender.
State aid will only cover up to the cost of tuition and fees and is not refundable to the student.
Aid cannot be used to retake courses that were already successfully completed or that do not apply toward your degree.
Student Responsibility
Franklin University is committed to assisting students in applying for financial aid resources. However, students enrolled in courses at Franklin are ultimately responsible for paying their tuition and fees.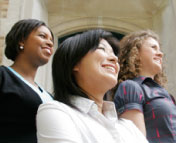 Ready to start an application?
Franklin's student-centered philosophy is one of the many reasons so many students choose us!
START YOUR APPLICATION