Verification Process
Verification Process
How do I know if I am Selected for Verification?
The Financial Aid office will send you an email notification that you are selected for verification and what documents you need to submit to our office.
How do I know which IRS Federal Tax Transcripts to request?
Using the IRS Data Retrieval Tool when you complete your FAFSA on the Web is the best, fastest, and easiest way to verify income.
Use your 2014 tax information when completing the 2015-16 FAFSA
If you were selected for verification and you (or spouse, or if dependent your parent) were unable to use the IRS Data Retrieval Tool; or, Franklin sent you an email requesting your IRS Tax Transcript you MUST request a "transcript" of the federal tax return you filed with the IRS. IMPORTANT: A copy of a tax return is not acceptable.
There are two ways to request a Return Transcript from the IRS:
1) Online at IRS (http://www.irs.gov/Individuals/Get-Transcript). Click on the blue button that says "Get Transcript ONLINE". If you have not already done so, you will asked to set up an account. Once your account is setup, you will be able to retrieve your Return Transcript immediately as a PDF.
Request a 2014 Return Transcript for the 2015-16 year.
OR
2) By phone at 1.800.908.9946 -ask for a Return Transcript for the appropriate year.
NOTE: If you (or your spouse, if married; or parent if a dependent student) filed an Amended Federal Tax Return (1040X), a SIGNED copy of your 1040X must be attached with the IRS Return Transcript and submitted to our office.
Verification Forms
Do not complete these forms unless you have received a request from our Financial Aid office. The forms are available on our Financial Aid Forms page. First, select the appropriate year button, then scroll down to Verification Forms (Independent Verification Worksheet, Dependent Verification Worksheet, Support of Household Members, Household Untaxed Income). PRINT OUT ONLY THE FORMS OUR OFFICE REQUESTED. Complete the forms in blue or black ink and submit them to our office.
Franklin University will not be able to process your financial aid until all requested information is received. As with all requests from University offices, please respond as quickly as possible.
New requests for documents or information may arise throughout the year. Please respond quickly to any requests for information.
1.22.15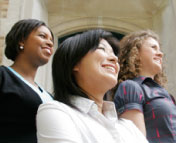 Ready to start an application?
Franklin's student-centered philosophy is one of the many reasons so many students choose us!
START YOUR APPLICATION