Financial Aid Forms
Financial Aid Forms
Financial Aid Forms are available below for the 2013-14 year. If you are unable to locate the form you are looking for, please contact us at 877.341.6300.
Choose Ohio First Scholarship (COF) - will be available May 2014
FAFSA - Free Application for Federal Student Aid
Master Promissory Note (MPN)
Privacy Release (REL) - Due to federal regulations, we must have a signed authorization if you would like our office to release information about your account to someone other than yourself (parent or spouse, if not a dependent student)
Selective Service Registration Form (SSR)
Undergraduate Scholars Application (USA) - application for 2014-15 will be available in February.
VA - Plan of Attendance (POA)
Verification Forms (Complete ONLY if notified by the Financial Aid Office
IRS Tax Transcripts for 2013-14
Using the IRS Data Retrieval Tool (IDRT) when you complete your FAFSA on the Web is the easiest, fastest and best way to verify income. If you are unable to use the IDRT or Franklin sent you an email requesting a 2012 IRS Tax Transcript, you MUST request a transcript of the federal tax return you filed with the IRS for 2012.
There are two ways to request a Return Transcript from the IRS:
By phone at 1.800.908.9946. Ask for a Return Transcript for 2012; or,
Online at www.irs.gov. Under the Tools tab, click on Order a Return or Account Transcript. Then, under Step 3 on the next page, click on Order a Transcript. When asked what type, choose Return Transcript.
Important Note: if you file an Amended Federal Tax Return (1040X), you will also need to submit a SIGNED copy of your 1040X along with the Return Transcript from the IRS.
Community College Alliance (CCA) Program Students Only:
Important Change for 2013-14:
If you are a CCA student and you plan to attend your community college for any term within the 2013-14 award year and would like Franklin to consider hours at your community college in your financial aid award, you must submit a Student Contract. If you anticipate attending Franklin University only, submission of this document is NOT required for 2013-14.

This feature is intended for Financial Aid questions.
Testimonials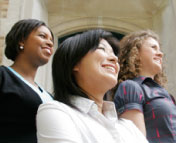 Ready to start an application?
Franklin's student-centered philosophy is one of the many reasons so many students choose us!
START YOUR APPLICATION