Financial Aid Forms
Financial Aid Forms
Financial Aid Forms are available in the drop down below for:
The 2017-18 year (17/SU; 17/FA; 18/WI)
FORMS FOR 2016-17:
The 2016-17 Financial Aid Forms have been removed from our website. If you were:
Enrolled 17/WI term;and
Had a valid ISIR on file;and
Selected for verification, you may still submit the verification documents for 2016-17 that our office requested from you. Verification documents should be submitted as quickly as possible and must be received no later than August 25, 2017. These documents may include Independent/Dependent Verification Worksheets, Tax Transcripts, Support of Household Members, or W2's. It is too late to receive loans, but we will review your file for any other aid eligibility.
If you are unable to locate the form you are looking for, please contact our office at finaid@franklin.edu or call our office at 614-797-4700 or toll-free at 877-341-6300.
Click on the item below to access the form or website:
Verification Forms (complete these forms ONLY if notified by our Financial Aid office that they are needed)
IRS Tax Return Transcripts
Using the IRS Data Retrieval Tool (IDRT) when you complete your FAFSA is the easiest, fastest, and best way to verify income. If you are unable to use IDRT or Franklin sent you an e-mail requesting a Tax Return Transcript for 2015, you MUST request a transcript of the federal tax return you filed with the IRS for 2015.
There are a few ways to request a Tax Return Transcript for 2015 from the IRS.
1) The Preferred Method is online at the IRS website (https://www.irs.gov/Individuals/Get-Transcript). Click on the blue button that says "Get Transcript online" or "Get Transcript By Mail". If you don't already have an account, you will be asked to set one up. Once your account is setup, you will be able to request a 2015 Tax Return Transcript to view, print and download or to be mailed to you. Mailed transcripts will be sent to you in 5-10 calendar days at the address the IRS has on file for you.
2) If you are unable to use Get Transcript online or by mail, you may try the automated phone transcript service at 1.800.908.9946 to receive your transcript by mail. Please allow 5-10 calendar days for delivery.
Community College Alliance (CCA) Program Students Only:
If you are a CCA student and you plan to attend your community college for any term within the 2017-18 award year and would like Franklin to consider hours at your community college in your financial aid award, you must submit a Student Contract. If you anticipate attending Franklin University ONLY, submission of this document is NOT required.

This feature is intended for Financial Aid questions.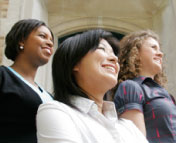 Ready to start an application?
Franklin's student-centered philosophy is one of the many reasons so many students choose us!
START YOUR APPLICATION