Scholarships
The COHPA Partnership Scholarship
In support of its mission to provide a high quality, relevant education that encourages lifelong learning as students grow in their healthcare and public service careers, Franklin University's College of Health & Public Administration offers tuition scholarship benefits to employees of partner organizations.
As part of the college's commitment to open pathways for professionals to obtain higher education and professional goals, the scholarship benefit is available for all programs within the College of Health & Public Administration.
To be eligible for a COHPA Education Partnership Scholarship, you must be employed by a partner institution. The scholarship will be applied as a percentage of tuition each term – upon registration – as long as you remain employed by a partner institution. The scholarship applies toward tuition only.
How to Get Started
1. Apply to Franklin University
The page also provides information about the admission process – for both undergraduate and graduate admission – under the "view application procedures" link.
2. Once you are notified of your acceptance and before you are registered for your first term classes, you must download the Scholarship Application Form for your company below and return the completed form to your Human Resources office. A representative there will sign and validate the form and complete an employer letter. Your HR department or you may return it directly to Franklin's Business Office so the scholarship will be reflected on your billing statement.
Please note: You must complete the form and have it signed by the designated representative at your company prior to each academic term.

Partner Organizations
Staff of VHA-Central, as well as employees of VHA member hospitals are eligible for the VHA-Central Partnership Scholarship. To see a list of VHA member hospitals, click here and use the "Find a VHA member" tab and select your state to find a complete list of all member hospitals. To be eligible for the scholarship, your employer must be a member of VHA-Central, which encompasses Ohio, Indiana, and Michigan.

This feature is intended for Financial Aid questions.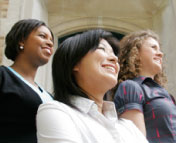 Ready to start an application?
Franklin's student-centered philosophy is one of the many reasons so many students choose us!
START YOUR APPLICATION