Office of International Services and Programs
Office of International Students & Programs (OISP)
International Students & Programs
If you would like to pursue a U.S. education, Franklin University is a great choice for you.
Our diverse academic programs and personalized international student services and programs make it easy for you to focus on your education and broaden your cultural perspectives while studying in the U.S. or abroad.
The Office of International Students and Programs at Franklin University supports the University's global strategies by:
Supporting new students entering the U.S. to pursue Franklin degree programs
Serving current international students studying in the U.S. and abroad
Administering the Exchange Visitor Program
Learn more about becoming an International Student at Franklin University:
Exchange Visitor Program | J-Visa Program
Franklin University has been designated by the U.S. Department of State (DOS) as a sponsor of an exchange visitor (J-Visa) program. Franklin University's designation by the DOS enables foreign nationals to come to the U.S. to teach, study, conduct research, or demonstrate special skills on either a short-term or a long-term basis at the University.
Franklin University's Office of International Students and Programs (OISP) provides support to Exchange Visitors, assisting them with securing placement in a University department or academic program. OISP guides Exchange Visitors through the processes of securing J-1 visas, relocating to Columbus, Ohio, beginning their exchange activities at the University, and maintaining their J-1 immigration status.
Potential Exchange Visitors must possess sufficient proficiency in the English language to participate in their program activities, demonstrate that their intended program activities are suitable to their background, needs, and experience, and must be eligible to apply for J-1 visa/immigration status.

Interested, qualified candidates are encouraged to submit an application to oisp@franklin.edu.
To learn more about the Exchange Visitor Program, visit the Department of State website or download the University's Exchange Visitor Program (J-Visa) Handbook.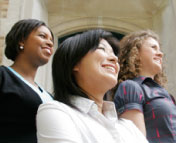 Ready to start an application?
Franklin's student-centered philosophy is one of the many reasons so many students choose us!
START YOUR APPLICATION