Career and Technical Student FAQs
Get answers to your questions about career and tech programs at Franklin University.

Q. How much is tuition at Franklin University?
A. Franklin's affordable tuition is one of the lowest of all four-year independent colleges in Ohio, and among the lowest 10% in the nation.

Q. Where is Franklin University located?
A. Franklin University has physical locations in central Ohio and Indianapolis, Indiana. You can also earn your degree online through Franklin's Virtual Campus.

Q. Is Financial Aid available?
A. Yes. Our helpful Financial Aid staff is committed to helping you pay for your education.

Q. How long will it take to finish my bachelor's degree?
A. When you are finished with your training at your career technical school, you will receive up to 24 hours of technical credit. That will leave you with 100 hours to complete, which takes most students about 3 years. However, if you have previous college credits to transfer, the number of required courses may be reduced.

Q. Do you have to be logged on at a certain time for online?
A. Online classes at Franklin are primarily self-paced, with deadlines for assigned projects specified in advance. Your instructor may host live discussion sessions through Franklin Live!, which would require you to log on at a specific time.

Q. Are Franklin courses held online or on campus?
A. Franklin University offers classes at locations in central Ohio and Indianapolis, Indiana. You can also attend online classes through Franklin's Virtual Campus. Choose the format that best meets your needs.

Q. Is Franklin on semesters or quarters?
A. Franklin operates on a trimester schedule and offers classes all year. You can take classes in 3-, 6-, 12-, or 15-week formats, as available.

Q. Is there an application deadline?
A. Franklin starts classes three times a year, and accepts applications at any time. Submit your free online application today!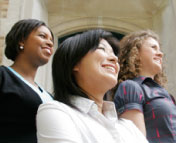 Ready to start an application?
Franklin's student-centered philosophy is one of the many reasons so many students choose us!
START YOUR APPLICATION