International Student Services and Programs
International Student Services and Programs
Franklin University is host to hundreds of international students from over 60 countries across the globe. Our diverse academic programs and personal services and programs make Franklin an ideal choice for those looking to attend a university in the United States.

The Office of International Services and Programs (OISP) in the Global Programs Division of Franklin University provides International Admissions and personalized services and programs including academic advising and support for your educational experience in Columbus, Ohio, the 15th largest city in the U.S.
Whether you're starting college for the first time, transferring to Franklin from another school, enrolling in graduate school, or seeking to enhance your English language abilities with our ESL Program, Franklin offers you a broad range of degrees in an ideal learning environment.

Contact us today
1.614.797.4700 or 1.877.341.6300 (toll free in the U.S.)
Fax: 1.614.255.9515
oisp@franklin.edu

Office of International Student Services & Programs (OISP)
Franklin University
201 S. Grant Ave.
Columbus, OH 43215 USA
Office hours are based on Eastern Standard Time (EST).
Open advising hours are subject to change.

Monday
3 pm - 5 pm
Tuesday
3 pm - 5 pm
Wednesday
4 pm - 6 pm
Thursday
3 pm - 5 pm
Friday
1 pm - 2 pm
Saturday
(1st Saturday of the month only)
9 am - 1 pm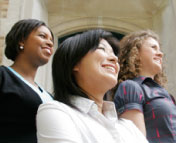 Ready to start an application?
Franklin's student-centered philosophy is one of the many reasons so many students choose us!
START YOUR APPLICATION