Tuition & Fees
Community College Alliance (CCA) Tuition Rates
Community college students save time and money at Franklin University.
Franklin's affordable tuition is one of the lowest of all four-year independent colleges in Ohio, and among the lowest 10% in the nation.
By transferring credits from a community or technical college you can earn your entire associate's degree, and may have an option to complete up to 84 semester credit hours, of your bachelor's degree at the lower community college tuition rate.
Financial Aid Available
If you need assistance paying for your education, we can help. Learn more about your Finanical Aid and scholarships at Franklin.

This feature is intended for Financial Aid questions.
Testimonials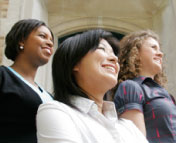 Ready to start an application?
Franklin's student-centered philosophy is one of the many reasons so many students choose us!
START YOUR APPLICATION