Post-Secondary Option
Post Secondary Education Program for High School Students
The Post-Secondary Enrollment Option Program (PSEOP) at Franklin University
Are you a high school student who wants to get a head start on college? Franklin's Post-Secondary Enrollment Option Program (PSEOP) is designed to provide extremely motivated and accomplished high school students with access to college-level coursework. As a bonus, the college courses you take through PSEOP may also fulfill your high school graduation requirements if approved by your local school district.
Is Post-Secondary education right for you?
PSEOP is intended for students who wish to gain skills or knowledge that can only be found in college-level courses. It can also help you see what it's like to take college-level courses, strive toward advanced academic goals, and take classes with students from all walks of life. You should be prepared to handle the academic challenges expected of college students by acting responsibly and being accountable for your studies.
How PSEOP works:
PSEOP Option A: Receive college credit only. The student pays for tuition, fees, and books.
PSEOP Option B: Receive both high school and college credit. The student's school district is responsible for the cost of tuition, fees, and textbooks. However, if a passing grade is not earned or a course is dropped after published deadlines, the student can be charged for part or all of the tuition for the course by the school district. A limited number of students will be admitted under Option B.
Applicant Qualifications for PSEOP:
High school freshmen and sophomores must have a minimum cumulative GPA of 3.25 or higher.
High school juniors and seniors must have a minimum cumulative GPA of 3.0 or higher.
All PSEOP applicants must take Franklin University placement examinations and place into WRIT 120, College Writing. If a PSEOP applicant wishes to take math courses or courses for which prior math credit is a prerequisite, students must achieve placement into MATH 150, Fundamental Algebra. Testing into a lower level of math will not hinder a student's application for admission, rather, the student would not be eligible to take math courses or courses for which math is a prerequisite if accepted.
Must have a B average or better in a high school subject in order to study that subject at Franklin.
Have more questions about PSEOP? Download our free brochure to learn more.
Admission Information:
A limited number of Option B PSEOP students will be accepted each eligible trimester. However, any Option A student who meets GPA and testing requirements will be accepted. Once the application deadline for each trimester is reached, there will be a full administrative review of all eligible Option B candidates, and those who are the most qualified will be accepted. Preference will be given to those students who have already participated in PSEOP at Franklin and have earned an average of B or better in all coursework.
Program Regulations:
All PSEOP students must successfully complete PF 121, Basic Learning Strategies, before any other college coursework can be attempted. This two-credit-hour course will count toward any total credit-hour allotment provided by the student's high school guidance counselor.
PSEOP Option B students can take a maximum of eight semester hours per trimester during Fall and Winter Trimesters. The PSEOP Academic Advisor will work with Option B students to follow guidance counselor recommendations up to eight hours per eligible trimester, but not more. Option A students will work with the PSEOP Academic Advisor to determine an appropriate amount of credits per eligible trimester.
Any PSEOP student who fails a course or withdraws from the course after the first week may be dropped from all other current trimester courses that have not already started and will not be able to register or reapply for the program in the future.
Steps to Apply for PSEOP at Franklin:
Contact your guidance counselor to learn about your high school's requirements for enrollment in PSEOP.
Submit the following to Franklin University:

Completed application, including a guidance counselor signature
Sealed copy of your official high school transcript (with your GPA) and official transcripts sent from any other colleges or universities you've attended
Copy of your upcoming high school schedule (if available)

Contact the PSEOP Academic Advisor to arrange placement testing.
Take placement tests through Franklin's Student Learning Center.

Decision letters will be mailed to applicants within one month of the application deadline.

PSEOP Application Deadlines

Fall Trimester - June 1
Winter Trimester - October 1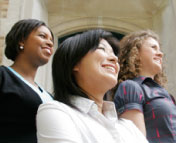 Ready to start an application?
Franklin's student-centered philosophy is one of the many reasons so many students choose us!
START YOUR APPLICATION