Housing
Franklin University does not offer on-campus housing. It is the responsibility of each student to find his or her own accommodations, such as an apartment. There are many apartments located in walking distance to Franklin University. You may want to contact some of the apartments listed below before you arrive in the U.S. to check on availability.
Belmont Apartments
585 East Town Street
Columbus, Ohio 43215

614.461.9441
FAX 614.280.0488

1 Bedroom $475-$515 (tenant pays electric only)
Student Room $275-$300 (utilities included)
Student Room (month to month) $300-$325
Grant Oak Apartments
66 South Grant Avenue
Columbus, Ohio 43215

614.224.4425
FAX 614.224.4467

Studio/Efficiency $390
1 Bedroom $410
2 Bedroom $600
Washington Place Apartments
518 East Town Street
Columbus, Ohio 43215

614.224.5584
FAX 614.224.6032

Efficiency $450
1 Bedroom $525-$575
1 Bedroom Deluxe $750 (includes heat)
The Americana Apartments
370-380 South Fifth Street
Columbus, Ohio 43215

1.888.827.3975
FAX 614.464.4061

Efficiency From $360
1 Bedroom/Garden From $480
2 Bedrooms /Garden From $575
2 Bedroom Town homes From $755
renting to graduate students only

Loving Realty
529 East Town Street
Columbus, Ohio 43215

614.221.4573

Efficiency $340-$390 (with kitchen)
Studio $485-$550
1 Bedroom $595-$650
2 Bedroom $795

Eventide, Inc
http://www.osurent.com
2265 N. High St.
Columbus, OH 43201

614.402.3555 or 614.297.0496

Note: When you check out the prices for the apartments that interest you, make sure you discuss with the landlord about what you are responsible to pay. For instance, are all the utilities included or you have to pay the electricity, gas, heat or water? Make sure you include all these costs, and then compare the prices. It is also a good idea that you check out the apartment and the environment around the apartment before signing a lease.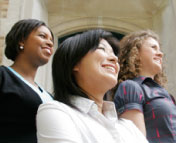 Ready to start an application?
Franklin's student-centered philosophy is one of the many reasons so many students choose us!
START YOUR APPLICATION