Admissions Requirements for International Students
Applying for admission as an international student
Franklin University accepts applications for admission to programs in the U.S. on a rolling basis throughout the calendar year. International applicants who wish to apply to Franklin University for admission as non-immigrants should apply early as there are several steps to complete for a successful start at Franklin.
Applicants who are currently in the United States should complete the application process at least 6 weeks in advance of your intended program start date. Applicants who are currently in another country and will be applying for a visa to enter the United States should be mindful of additional time necessary to allow for international shipping of documents and embassy wait times.
Applicants seeking admission to programs at one of our Global Partner Schools should consult the appropriate contact at that school or the Office of International Students and Programs for the admission deadline and application process.
Completing the application process
For your application to be considered complete, international applicants to Franklin University's U.S.-based programs must submit the online application and supplemental materials to:
Office of International Students and Programs
201 S. Grant Ave.
Columbus, OH 43215
oisp@franklin.edu
Supplemental materials should include applicant's full name, date of birth, and Franklin ID number, which is assigned after the online application has been submitted.
Transcripts from institutions outside the US must be submitted to an approved third-party transcript evaluation agency. Please request a course-by-course evaluation and request that the evaluation be submitted directly to Franklin University. Applicants to graduate programs should ensure that the transcript evaluation includes a calculation of cumulative grade point average (GPA). Students wishing to request transfer credit from another post-secondary institution to Franklin University should submit official syllabi for those courses.
Additional materials may be required by the Office of International Students and Programs prior to registration, including:

Meeting the English proficiency requirement
The minimum English proficiency scores required by Franklin University for admission are:
On-campus undergraduate programs

IELTS: 4.5
Internet-based TOEFL: 45
Computer-based TOEFL: 133
Paper-based TOEFL: 450

Online undergraduate programs from outside the United States and all graduate programs

IELTS: 6.5
Internet-based TOEFL: 79
Computer-based TOEFL: 213
Paper-based TOEFL: 550
Accuplacer ESL: 101 (Reading Comprehension) and 5 (WritePlacer)

The following list indicates countries where English is the only official language. Applicants from these countries are not required to complete the TOEFL or IELTS as part of the admission process.
Antigua and Barbuda
Australia
Bahamas
Barbados
Belize
Bermuda
Botswana
Canada (all provinces except Quebec)
Cayman Islands
Dominica
Fiji
Gambia
Ghana
Grenada

Guyana
Ireland
Jamaica
Lesotho
Liberia
Kenya
Kiribati
Malta
Marshall Islands
Mauritius
Micronesia
Nauru
New Zealand
Nigeria
Philippines

Saint Kitts and Nevis
Saint Lucia
Saint Vincent and the Grenadines
Sierra Leone
Solomon Islands
Swaziland
Tanzania
Trinidad and Tobago
Uganda
United Kingdom
Virgin Islands
Zambia
Zimbabwe

Applicants admitted to undergraduate programs will be required to complete English as a Secondary Language placement testing prior to course registration. Learn how Franklin University supports you while you are learning English as a Second Language (ESL).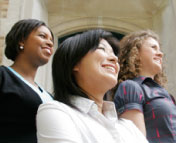 Ready to start an application?
Franklin's student-centered philosophy is one of the many reasons so many students choose us!
START YOUR APPLICATION