Pre-Departure and Arrival Information
Visa Interview
Students accepted to Franklin University will be issued an I-20 form to apply for the F-1 student visa. You should bring your I-20, acceptance letter, financial documentation, high school documents and passport to the closest U.S. Embassy or Consulate to apply for a visa. For more information see Tips for a Successful U.S. Consular Interview
Before your visit to the U.S. Embassy or Consulate, you will need to pay the Student and Exchange Visitor Information System (SEVIS) I-901 fee.
Note regarding potential visa issuance delays
All applicants for a U.S. visa are subject to security checks before a visa can be issued. Visa delays for some applicants can range from weeks to several months. A visa will not be issued until the application clears all security checks.
Additional Resources
If you are applying for nonimmigrant visas to the U.S., you may also benefit from visiting the Destination USA visa information Web site.
Documentation through express mail – International Students
To request express mailing of your Franklin University documents – at your expense – you must register with Franklin's preferred service provider, eShipGlobal.
eShipGlobal allows you to send or receive I-20s, applications, important documents, and other important forms through global express mail services like DHL or FedEx in 3-5 business days. You must register with eShipGlobal first. Do not go to DHL or FedEx directly.
Sign up for an eShipGlobal student account and follow the instructions carefully to make your online payment (Visa, Mastercard or Discover) quickly and easily. Plus, by using eShipGlobal, you'll get a 15-30% discount on your express mail services!
Travel Arrangements
Columbus is located in the middle of the state of Ohio. Your final flight destination should be to Port Columbus International Airport. If you choose the free American Homestay Program, your host family will pick you up from the airport. Temporary (1 to 3-day) housing reservations can be made at a local hotel until you find an apartment.

When to Arrive
You may arrive in the U.S. 30 days prior to the start date on your I-20, but no later than the date on your I-20. This gives you time to find an apartment, take placement tests, register for courses and get adjusted before classes start. There will be a required International Student Orientation before classes begin.
Using the Right Documents at the Port of Entry
Be sure to present Franklin's I-20 when applying at the U.S. Embassy and to the border official when entering the United States. On the plane you will be issued an I-94 card. This card is an important document. Be sure to keep this card with your passport
Getting Ready
Once you have been accepted to Franklin University and have your visa, it is recommended that you prepare accordingly for your college career and for studying in the U.S. There are several tips that we recommend before you leave your home country.
1. Read all of the documents carefully that you have received from the University.
2. Practice your English, both written and oral communication.
3. Arrange your finances by preparing a budget of planned expenses. Be prepared to pay your tuition and fees upon registration. Do not expect to get additional financial aid. The documentation submitted to obtain your I-20 mean that the funds are readily available for you to use for your educational and living expenses. If you do not have the funds available, please do not come to the U.S. to study.
4. Be prepared to dress appropriately. You will encounter different weather conditions in Columbus. Ohio temperatures range from 15°F (-9.4C) or colder in January to 80°F (26.6C) or higher in August.
5. Provide your family with a contact number in the United States. If you have already arranged housing with friends or family, provide their phone number. If you need to arrange housing upon arrival you may use Franklin University's contact number.
(Source: China-NAFSA)
There are several online resources available to prepare international students for planning, traveling and your first months in the U.S.
U.S. Consular Interview
Here are some tips you should consider when preparing for an interview with an U.S. Consular Officer:
1. Bring all documents to the interview including the I-20 from Franklin University, letter of acceptance, school documents, financial documents and passport. It should be immediately clear to the Consular Officer what written documents you are presenting and what they signify. Lengthy written explanations cannot be quickly read or evaluated.
2. Keep in mind that all Consular Officers are under considerable time pressure to conduct a quick and efficient interview. They must make a decision, for the most part, on those impressions they form during the first minute or two of the interview. Consequently, what you say first and the initial impression you create are critical to your success. 3. Know the program and how it fits your career plans. Be able to explain why you chose Franklin University and how studying in the U.S. will relate to your future professional career when you return home.
4. Anticipate that the interview will be conducted in English and not in your native language. Practice English conversation with a native speaker before the interview.
5. Do not bring family members with you to the interview. The officer wants to interview you, not your family. A negative impression is created if you are not prepared to speak on your own behalf.
6. Maintain a positive attitude. Do not engage the Consular Officer in an argument.
7. Do not concede, under any circumstance, that you intend to work in the U.S. after completing your studies. While many students do work off campus after their graduation, this work is incidental to their main purpose for coming to the United States.
8. You will need to show strong ties in your home country that will insure your return home after your education in the U.S. is completed. Under U.S. law, all applicants for nonimmigrant visas are viewed as intending immigrants until they can convince the consular officer that they are not. You must be able to show that you have reasons for returning to your home country that are stronger than those for remaining in the United States. "Ties" to your home country are the things that bind you to your homeland: job, family, financial prospects that you own or will inherit, investments, etc.
9. If your spouse is also applying for an accompanying F-2 visa, be aware that F-2 dependents cannot, under any circumstance, be employed or study on F-2 status in the U.S. If asked, be prepared to address what your spouse intends to do with his or her time while in the U.S.
10. If your spouse and children are remaining behind in your country, be prepared to address how they will support themselves in your absence. This can be especially difficult if you are the primary source of income for your family. If the consular officer gains the impression that your family will need you to remit money from the United States in order to support them, your student visa application will almost certainly be denied.
11. If you are denied a student visa, ask the officer for a list of documents he or she would suggest you bring in order to overcome the refusal and try to get the reason you were denied in writing.
Credits: Gerals A. Wunsch, Esq. 1997, Martha Wailes, Indiana University, and the U.S. Department of State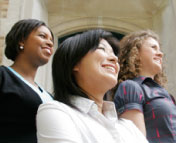 Ready to start an application?
Franklin's student-centered philosophy is one of the many reasons so many students choose us!
START YOUR APPLICATION