Social Security Number FAQ
In an effort to cut down on Social Security fraud, illegal work, and identity theft, the Social Security Administration (SSA) and Department of Homeland Security (DHS) allows you to obtain a Social Security Number (SSN) only if you have obtained authorized employment.
A Social Security Number (SSN) will still be requested from you for a variety of reasons, such as obtaining a driver's license, paying for utilities and renting an apartment. However, it is not required for anything other than working in the U.S.
Choose a category by selecting the appropriate header.
The only way for F-1 student status holders to get a Social Security Number is to obtain authorized employment. Once authorized employment is obtained, then F-1 students must apply for the Social Security Number and should do so in a timely manner. For the first academic year (two trimesters), you may only seek on-campus employment.
F-1 students who apply for a Social Security Number (SSN) on the basis of on-campus employment will need to present the following items to the Social Security Administration Office:
Passport, I-94 card, and I-20.
A letter from the Human Resources Office verifying your employment with Franklin University, signed by both Human Resources and International Student Services.
A completed copy of

Form SS5 (non-citizen application)
Please note: The Social Security Administration will not process the card if it is more than 30 days before your employment begins.
Take the employment card that you received from USCIS (Employment Authorization Document) along with your passport, I-94, and I-20 to the Social Security Office to apply for your number. The Social Security Administration will not process your application until the start date of the employment.
No. You can open a bank account without a Social Security Number. The SSN may be requested, reflecting old business practices, but is not required. You will need to bring proper documentation with you to open the account, which will include your passport, I-94 card, and I-20.
Yes. An F-1 student may work while the Social Security Number application is being processed. However, without a Social Security Number, a paycheck will not be issued. Your worked hours will be accumulated and paid once your SSN is received.
For any other questions, please contact International Student Services or go to the Social Security Administration Web site at www.socialsecurity.gov.
The issuing of an SSN takes two weeks before you receive your Social Security Card. Please note that you will only be able to apply for a SSN between the hours of 10 a.m. and 3 p.m. on weekdays.
After you have received your social security number, you will need to notify Student Services in person of your permanent number.

Social Security Administration
Federal Building
200 North High Street
Columbus, OH 43215
Phone: 614.469.6855
If you do not have access to a car or someone to drive you to the Social Security Administration office, take the #2 COTA bus on High Street to downtown Columbus. Ask the bus driver to let you off at the bus stop nearest 200 N. High St.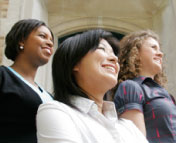 Ready to start an application?
Franklin's student-centered philosophy is one of the many reasons so many students choose us!
START YOUR APPLICATION