Military Students
Franklin serves the educational needs of military students across the globe.
Franklin University is committed to serving the needs of all military students through a variety of specialized programs. In fact, Franklin has been designated a "Military Friendly School" by GI Jobs Magazine. We greatly value your service to our country and we are honored to serve your educational needs.

Get college credit for military experience
Whether you're on active duty, reserve, or veteran status, your military experience and training may count toward college credit at Franklin University. We use the AARTS transfer system and review individual profiles to maximize your transfer credit.
Find out how your credits will transfer by requesting a free preliminary evaluation. Or, if you're ready, apply online* now (it's free!) to receive your official evaluation.

Serve while you learn with our online programs
Earning your degree while serving your country is an ambitious task. Whether you're serving 10 miles away or across the globe, Franklin is committed to offering you the flexible, convenient course formats you need to balance your education with the demands of military life.
Franklin University has the on-campus and online degree programs that work for you. Complete your free online application* today and we'll help you choose the format and program that best meets your needs.

*Please note: GoArmyEd applicants must apply through the GoArmyEd Portal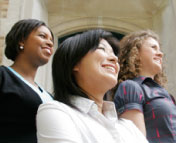 Ready to start an application?
Franklin's student-centered philosophy is one of the many reasons so many students choose us!
START YOUR APPLICATION