Army National Guard
Franklin University proudly serves the educational needs of the U.S. Army National Guard.
Earning your degree is an ideal way to open new doors for yourself personally and professionally – both in military and civilian sectors. Franklin University has an unparalleled understanding of the needs of soldier-students. In fact, we were one of the first institutions approved by the U.S. Army to provide online educational opportunities to soldiers like you.
Franklin is focused on bringing you high-quality degree programs with flexible schedules and affordable tuition. Our Virtual Campus provides classes online, so you can work toward your educational goals when and where it's most convenient.
How do I get started?
Complete Franklin University's free online application.
Complete your Education Support Center application to obtain a comprehensive military education assessment. This will become an official transcript at Franklin.
Send requests for all transcripts (high school, college, GED, AARTS)
Make a phone appointment with your Student Enrollment Advisor (SEA)
Register for PF 321, Learning Strategies, through your SEA. If you have any questions about registration or prerequisites, please contact your SEA at 1.877.341.6300.
Take placement test(s) in math, writing, reading and/or computer literacy (if necessary).
Contact the Franklin University Bookstore at 1.877.341.6300, x6262 to order course materials.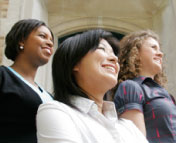 Ready to start an application?
Franklin's student-centered philosophy is one of the many reasons so many students choose us!
START YOUR APPLICATION