GoArmyEd Program at Franklin University
Wherever you serve, Franklin University serves you.
Franklin University removes the barriers keeping you from earning your degree, whether you're stationed 10 miles away or deployed 5,000 miles from home. GoArmyEd is the U.S. Army's educational initiative designed to help you work toward your college degree or professional certification online no matter where you're stationed.
As one of the original institutions chosen to participate in the GoArmyEd Program, Franklin University tailors your degree program to fit your lifestyle. With Franklin University, you will take accelerated online courses, one course at a time, enabling you to earn your degree without disrupting your military duties.
Affordable Tuition for GoArmyEd Students
Franklin is committed to offering soldier students like you quality online education that is convenient and affordable.
With the GoArmyEd Program, you'll experience Undergraduate tuition that is just $250 per credit hour, falling within the Tuition Assistance cap.
Getting started in the GoArmyEd Program is easy
Schedule a meeting with an Education Counselor at your nearest Education Center and select Franklin University as your home institution.You will complete a free online application through the GoArmyEd Portal.
Request all your official transcripts be sent directly to Franklin University. This will help us maximize your transfer credit, saving you time and money toward your degree.
Register for PF 321 Learning Strategies, an introductory course teaching you how to learn online at Franklin.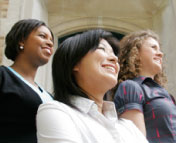 Ready to start an application?
Franklin's student-centered philosophy is one of the many reasons so many students choose us!
START YOUR APPLICATION