Veteran Students
Veteran's Educational Benefits at Franklin University

Franklin University values the service of all U.S. military veterans. As an extension of thanks for your faithful service to our country, we offer you individualized veteran student services to help you get the most from your veteran's educational benefits.

Franklin University has on-campus and online degree programs that meet the needs of today's veterans. We are committed to providing access to educational opportunities that will help you leverage your strong military background to achieve success in the civilian world. In fact, your prior experiences may earn you college credit at Franklin.

Complete your free online application for admission today and we'll help you choose the program that best meets your needs.

VA Educational Benefits including the Montgomery GI Bill and Post-9/11 GI Bill
If you're eligible for Veteran's Educational Assistance, we will help you take the steps necessary for you to begin receiving benefits. And since we maintain affordable tuition rates, your GI Bill benefits go further at Franklin. Learn more about using your VA Educational Benefits at Franklin.
Note: Your eligibility and equivalent educational benefits are determined by the United States Department of Veterans Affairs (VA).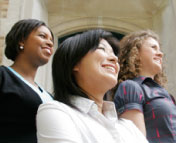 Ready to start an application?
Franklin's student-centered philosophy is one of the many reasons so many students choose us!
START YOUR APPLICATION