Veteran Students Transferring Credit to Franklin University
Franklin gives you college credit for your military training and experiences.
In addition to helping you obtain federal tuition assistance through the Montgomery GI Bill, we will evaluate your prior military experience and training using the AARTS Transfer system and award you college credit where appropriate.
Franklin works with the AARTS Transfer system to evaluate your prior experience. After you request an AARTS transcript, we will review your individual profile to maximize your transfer credit. According to the American Council on Education (ACE), the average number of academic credits awarded from an AARTS transcript is 14 credit hours.
The more credits you transfer in, the less classes you will have to take, and the more money you will save on tuition at Franklin.

Learn more about transferring credit to Franklin University or contact us today.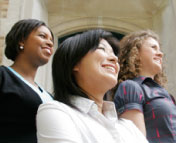 Ready to start an application?
Franklin's student-centered philosophy is one of the many reasons so many students choose us!
START YOUR APPLICATION