Franklin University in Gahanna, Ohio
Franklin University in Gahanna, Ohio
380 Granville Street,
Gahanna, Ohio 43230
Phone:
614.947.6690
Franklin University is located at 380 Granville Street, Gahanna, Ohio 43230
We help our students finish their degrees, advance their knowledge, and succeed in their educational paths by offering quality services close to home or work.
Programs:

We offer face-to-face courses for our undergraduate Business Administration degree program, and our Master of Business Administration (MBA) graduate program. We also offer many general education requirements that will get you started on any major at Franklin!
Click here for a list of all Franklin's academic programs
Want to take classes at this location?

Community College Alliance:
We partner with Columbus State Community College to offer Columbus State graduates a transfer-friendly 3+1 program for several programs, such as Business Administration.
Operational Hours:


Friday - Sunday: Closed
* Evening classes on-site: 6:00pm - 9:40pm
Although the location will be closed to the general public after 7:00pm, individual class times will remain the same with academic staff support and security available while classes are in session.

Gahanna Services & Staff: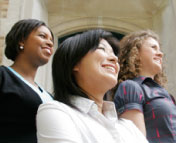 Ready to start an application?
Franklin's student-centered philosophy is one of the many reasons so many students choose us!
START YOUR APPLICATION