News & Community
News & Community
Franklin University experiences another record-setting year!
Highlights include:
New Undergraduate majors
Introduced International Institute for Innovative Instruction
Implemented technological advancements
New co-locations
Enter into agreement with Urbana University
Received specialized accreditation
Received numerous awards validating the University's commitment to excellence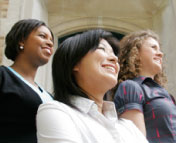 Ready to start an application?
Franklin's student-centered philosophy is one of the many reasons so many students choose us!
START YOUR APPLICATION