Presentations and Awards
Presentations and Awards
Franklin University is pleased to announce it has been named an Honorable Mention winner in the prestigious Institute of International Education's (IIE) Andrew Heiskell Awards for Innovation in International Education (2014). Franklin's Honorable Mention designation recognizes the University's best practices within its international partnership with the Wroclaw School of Banking in Wroclaw, Poland.
Franklin's agreement with WSB offers the Franklin MBA program to Polish students in classes held on WSB's modern campus in Wroclaw, Poland. Classes are taught in English by a combination of Columbus-based Franklin faculty traveling to Poland and European faculty from WSB and other institutions. In addition, the agreement also provided for Franklin faculty to provide input to WSB counterparts in developing a Polish-language MBA program leading to a WSB degree.
The Franklin University Online MBA was awarded a Best Value designation by GetEducated.com as part of its 2014 business school rankings.The online university cost rankings are based on a comprehensive, independent survey of regionally accredited business schools that offer online masters of business administration, and cover the formal major areas of business administration.
A Best Buy designation indicates programs have been independently reviewed and found to offer a high quality distance MBA to online students at a cost rate well below the national average.
Established in 1989, GetEducated.com was the nation's first online counseling center for adult learners seeking accredited online degrees.
Franklin's Online Master of Science in Accounting Programs was awarded a Best Value by GetEducated.com as part of its 2014 business school rankings.The online university cost rankings are based on a comprehensive, independent survey of regionally accredited business schools that offer degrees via distance education. A Best Buy designation indicates programs have been independently reviewed and found to offer a high quality distance accounting program to online students at a cost rate well below the national average.
Established in 1989, GetEducated.com was the nation's first online counseling center for adult learners seeking accredited online degrees.
Franklin's online M.S. in Computer Science was awarded a top ranking for Regionally Accredited Online Computer Science Programs by GetEducated.com as part of its 2013 university rankings. Top rankings of the top best values in online computer science degrees were based on a national review of 77 regionally accredited universities that offer 115 different online master's in computer science and IT. The survey covered a wide range of computer science majors, including information systems, database mining, information assurance and technical communication. The rankings highlight the 45 best affordable online degrees in this field.

Established in 1989, GetEducated.com was the nation's first online counseling center for adult learners seeking accredited online degrees.
Adding validation to the University's long-standing reputation for providing access to quality education, Franklin University was awarded a "Best of Business in Online Degree Program" by Columbus C.E.O. as part of the BEST in Business 2014 Readers' Survey.
Of special note regarding the 2014 honor, Franklin has been named the winner in the Best in Online Education category for all four years the category has been available for voting.
Winners for the seventh annual survey were determined through a Columbus C.E.O. survey in which readers were asked about the things that make Central Ohio's business landscape great. Where are the best business services and products located? What are the best local law firms? And, who gives the best financial advice?
The Criminal Justice Administration Program has been designated a 2014 Association for Educational Communications and Technology (AECT) Division of Distance Learning Best Practice Award winner. This award affirms the University's outstanding dedication to quality and its collaborative and innovative spirit that directly impacts our students' learning and success.
AECT is a professional association of thousands of educators and others whose activities are directed toward improving instruction through technology. AECT members may be found in colleges and universities; in the Armed Forces and industry; in museums, libraries, and hospitals; in the many places where educational change is underway. AECT members carry out a wide range of responsibilities in the study, planning, application, and production of communications media for instruction.
The Association has become a major organization for those actively involved in the designing of instruction and a systematic approach to learning. It provides an international forum for the exchange and dissemination of ideas for its members and for target audiences; it is the national and international spokesperson for the improvement of instruction; and, it is the most recognized association of information concerning a wide range of instructional and educational technology. Along with our members, AECT has 24 state and six international affiliates that are all passionate about finding better ways to help people learn. AECT is the oldest professional home for this field of interest and has continuously maintained a central position in the field, promoting high standards, both in scholarship and in practice. AECT has nine divisions and a Graduate Student Assembly that represent the breadth and depth of the field. The Association produces two bimonthly journals, Educational Technology Research and Development and TechTrends.
Franklin University's MBA offering at the Wroclaw School of Banking (WSB) in Poland recently ranked 8th in the 2013 Polish MBA program rankings provided by the Perspektywy Education Foundation.
The Perspektywy Education Foundation, an independent and non-profit national organization based in Poland, was established to promote and support education. The organization's magazine, the 'Perspektywy', organizes and publishes national university rankings and the rankings of the best secondary schools in the country. Respected for their level of credibility, the rankings are recognized as the most popular and reliable educational rankings in Poland.
For more information on the 2013 MBA program rankings from Perspektywy, visit http://www.perspektywy.pl/portal/index.php?option=com_content&view=article&id=916&catid=107&Itemid=244
The Franklin University MBA has received the "Highest Degree of Internationalization" ranking by Poland's Home and Market Magazine. Rankings were based on reviews of highest position, education level, student development, and academic evaluation.
Universities large and small have felt the growing influence of a world market. Franklin University's Global Academic Programs are redefining the term "global" in terms of educational access, academic quality, and global sustainability. Designation of this ranking validates that a Franklin University education truly has global appeal.
Franklin University has again been designated a Top Performer in Military Advanced Education's 2015 Guide to Military-Friendly Colleges and Universities. Honorees were selected by an independent panel of judges from the fields of both education and the military. Selections were based on each institution's favorable policies toward the men and women serving in uniform.

Military Advanced Education is the only magazine produced specifically for service members seeking to take advantage of the military education benefit. MAE covers issues and trends in distance learning and education as they specifically relate to military life, including innovative programs, military educational policy, financial aid, and coursework that offers special opportunities for military personnel.
G.I. Jobs magazine has named Franklin University to its 2014 list of Military Friendly Schools, which honors the top 20 percent of colleges, universities, and trade schools doing the most to embrace America's veterans as students. Schools on the list range from state universities and private colleges to community colleges and trade schools. The common bond is their shared priority of recruiting students with military experience.
G.I. Jobs (www.gijobs.com) is published by Victory Media, a veteran-owned business which also publishes The Guide to Military Friendly Schools, Military Spouse and Vetrepreneur magazines and annually rates the nation's "Military Friendly Employers," "Military Spouse Friendly Employers" and "Best Corporations for Veteran-Owned Businesses."
Franklin University was ranked in the top 20 of the Online Education Database (OEDb) Online College Rankings. These rankings, produced by OEDb, a database of accredited online education programs, are based on data from eight metrics:
Acceptance Rate
Financial Aid
Graduation Rate
Peer Web Citations
Retention Rate
Scholarly Citations
Student-faculty Ratio
Years Accredited
Established in September 2006, OEDb: Online Education Database is an independent for-profit organization located in Houston, Texas, dedicated to building a comprehensive database of the top accredited online colleges and the degree programs that they offer.
Franklin prides itself on the excellent qualifications of its faculty members, who are leaders in their respective fields and dedicated to education. Many members of Franklin's faculty have made presentations, published articles, or made notable contributions to the community including:

Michelle Buchberger (General Education Lead Faculty) presented her paper "John Fowles: The French Lieutenant's Woman & Reinterpreting Realism" at the North East Modern Languages Association (NEMLA) annual conference in Baltimore and the Midwest Modern Languages Associate Conference in Cleveland, Ohio.

Phyllis Duryee (Global Cultures Lead Faculty) and Pat McCann (Statistics and Computer Competency Lead Faculty) delivered their presentation "Adjunct Faculty Development in the Online Environment" at the Sloan-C International Conference in Online Learning in Orlando, Fla.

Dr. Ray Forbes (MBA Faculty) - published an article titled "Whole-Brain Coaching and the Merlin Effect: Lessons from Advancing Neuroscience" in the International Journal of Coaching in Organizations.

Dr. Ronald L. Hartung (Computer& Information Sciences Division Chair and Master of Science in Computer Science Program Chair) presented a paper at the Agent and Multi-agent Systems: Technologies and Applications Second KES International Symposium (KES-AMSTA 2008) in Incheon, Korea. He collaborated with Dr. Anne Hakanssonn of Uppsala University (Sweden) on "An Approach to Event-Driven Algorith for Meta-Agents in a Multi-Agent System" and "Using Meta-Agents to Reason with Multiple Ontologies."

Dr. Garry McDaniel (MBA Faculty) made a presentation titled "Leadership and Ethics" at the 2007 Global Business Ethics International Symposium and Teaching Workshop in Madrid, Spain. He also served as a guest lecturer at the Non-Profit Leadership Management Institute in Austin, Texas, speaking with non-profit executive directors on the topic of Leadership Transformational Change.

Dr. Michael Posey (Organizational Communication Program Chair) made his presentation "The Dos and Dont's of Implementing a Technology-Based Course Manager System" to the League for Innovation at the Community College Conference on Information Technology in Nashville, Tenn.

Dr. Douglas Ross (Master of Science in Marketing & Communication Program Chair) was awarded the 2008 Outstanding Marketing Educator by the American Marketing Association (AMA). His nomination was based upon his contributions to the marketing field through his work at Franklin as well as his contributions to the Professional Certified Marketer Preparation Course that the Columbus AMA holds each year. In addition to being named the 2008 recipient, Ross is the only winner to be given this award more than once, having been honored with this designation a record three times in the past twelve years (1996, 2005, and 2008).
Dr. Ross also received the 2006 AIM Award by the central Ohio chapter of the American Marketing Association for his "Out of the Box" entry, Faces of Franklin. Ross created a dynamic marketing art exhibit to raise awareness among central Ohio students about how record enrollment growth - particularly online growth - has changed the face of Franklin University.

Dr. Gary Stroud (Undergraduate Business Studies Division Chair) made a presentation titled "Bilking But Being Ethical" at the Second International Conference of the International Center for Corporate Accountability in New York City.

Dr. Yi Yang (Instructional Design) presented her paper "Using Quality Benchmarks to Measure Students' Perceptions of Online Course Quality" at ED-MEDIA, the World Conference on Educational Multimedia, Hypermedia, and Telecommunications, in Vancouver, Canada.

Success Path: Dynamic Strategies for Mapping Educational Outcomes
In response to a challenge from Franklin's Chief Academic Officer Dr. Christopher Washington, Michelle Buchberger and Dr. Yi Yang developed Success Path, a visual, color-coded interface that facilitates the creation of a visual "pathway" for each major at the University. The Success Path presentation shows how a simple approach to data management can result in a useful tool. Buchberger and Yang presented Success Path at the Campus Technology 2007 Winter Conference for Technology Leadership in Practice in San Francisco.

For a complete list, view our Faculty Profiles.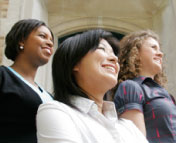 Ready to start an application?
Franklin's student-centered philosophy is one of the many reasons so many students choose us!
START YOUR APPLICATION