Corporate and Community Partners
Corporate and Community Partners
Community Engagement

Franklin has a proud history of interaction in the central Ohio community on many levels. The University engages constituencies not only to provide service, but also to incorporate them into the University's planning process and to build solid relationships that benefit the University, its students, and the community at large.
---
Corporate and Community Relations Department

Franklin's Corporate and Community Relations Department (CCR) focuses on relationship building and inquiry generation with companies, adult career centers, high schools, and local community colleges. CCR community involvement includes working with adjunct faculty, students, and alumni, along with participation in appropriate non-profit organizations such as chambers of commerce and rotary clubs.
Accounting Industry
Columbus City Schools
Columbus Attract and Retain Talent Initiative
CCA President's Council
Coaching Programs
Graduate School Alliance for Executive Coaching
Human Capital Institute
International Visitors Council
Ohio Board of Regents
Program Advisory Boards
Special Improvement District (SID)
Speakers Bureau
Technology Industry


Accounting Industry

Franklin's Accounting and Finance Department sponsors several industry-related events throughout the year to foster interest in the University's Accounting & Finance majors.
Accounting Networking Event. Representatives of organizations such as the Ohio Society of CPAs, the American Institute of CPAs, and the National Association of Black Accountants, participate in seminars and events that offer opportunities to broaden their education about their profession.
Topics covered have included:
Trends and forecasts
Forensics developments
CPA and CPE requirements
Sarbanes-Oxley expansions
Career opportunities
Credits to the Profession – The department implements and sponsors a speakers series, Credits to the Profession, which presents students and members of the accounting industry opportunities to hear insights from successful accountants in non-traditional roles within the industry. For example, accounting leaders from the Columbus Zoo & Aquarium and the Columbus Blue Jackets team of the National Hockey League have been featured speakers.
Accounting for Kids – Developed by the Ohio Society of CPAs, the program facilitates a connection between faculty and local elementary schools. Using an interactive game, faculty work with fourth and fifth graders to help them become acquainted with the accounting profession and gain a basic understanding of the stock market.
The events are free and open to students, alumni ,and the public. Check the Events page for upcoming events.


Columbus City Schools

Demonstrating an investment in future generations, members of the University's faculty and staff are involved with the Columbus City Schools in a variety of ways.

In 2007, Franklin University joined the CCS Higher Education Partnership (HEP) program. The HEP is a consortium joining CCS with nine central Ohio colleges and universities and I Know I Can , a scholarship program for disadvantaged high school seniors. The goal is to address issues in urban education and to develop collaborative efforts among members of the group, resulting in seamless pathways for CCS students in P-16 education and onward to higher-education options. Other examples of involvement include:

Leadership – Dr. Terry Boyd, Division Chair of Graduate Business Studies, serves as President of the Columbus City School Board.

Tutoring – Faculty and staff members volunteer their services in their subjects of expertise.

Reading program – Since 2002, approximately 15 Franklin employees volunteer each year to serve as guest readers to children in their public school classrooms in conjunction with American Education Week.


Columbus Attract and Retain Talent Initiative

Franklin participates in the Columbus Attract and Retain Talent Initiative, a project initiated by the mayor's young professional commission, and led by the Columbus Chamber of Commerce. A multifaceted, collaborative approach to deepen the workforce talent in Columbus, the initiative works to expand internship opportunities for local university and college students.



CCA Presidents Council

Presidents from Community College Alliance schools are invited to serve on the Presidents' Council to provide a high-level perspective of how well the partnerships are meeting the schools' needs and expanding suggestions for improvements and future planning for the program. Meetings are held on a biannual basis, with additional meetings scheduled as necessary.
Coaching Programs

Franklin University's Personal Development and Career Coaching Programs connect interested students and alumni with business leaders who are trained to provide one-on-one coaching on student academic success or career development. Coaching is a collaborative relationship that creates an ongoing practice of personal and professional development. By leveraging the wisdom and expertise of seasoned professionals, students and alumni are empowered to explore and initiate strategic academic and career decisions. Through discovery and strategic action, effective one-on-one coaching provides students and coaches with opportunities to learn and grow together.
If you're interested in becoming a coach, learn more about Franklin's Personal Development and Career Coaching Programs.



Graduate School Alliance for Executive Coaching

The mission of the Graduate School Alliance is to support the emergence of executive coaching as a graduate-level academic discipline. Franklin University faculty members have been instrumental in the formation of the alliance and continue to serve in executive roles. The Alliance consists of 11 universities nationwide.


Human Capital Institute

Franklin University and the Human Capital Institute – a membership organization and educational resource for professionals and executives in management, human resources, and organizational development and recruiting – have partnered to provide the central Ohio community with a unique professional development opportunity. Through the Talent Management Innovation sessions, Franklin and the HCI have sponsored local and international speakers addressing strategic talent-management issues.
Topics covered have included:
Global Talent Management
Managing Through Organizational Transformation
Check the Events page for any upcoming events.


International Visitors Council

For more than a decade, Franklin has been involved with Community Connections Grants provided by the United States Agency for International Development (USAID) and administered through the International Visitors Council of Columbus.
Through these venues, Franklin's faculty members have delivered seminars to entrepreneurs, business people, and heads of non-governmental organizations in former Asian nations that were formerly in the Soviet sphere of influence – all visitors hosted in the Columbus community.
Topics covered have included:
Business development
Finance
Marketing
Strategic Planning
Phyllis Duryee, Lead Faculty for Global Issues, currently serves as Secretary of the International Visitors Council Board.


Ohio Board of Regents

In 2007, Provost and Senior Vice President for Academic Affairs Dr. Christopher Washington was invited to join the Ohio Articulation and Transfer Advisory Council, which was created to facilitate and guide the efforts that will ease credit transfer among Ohio's institutions of higher education. This initiative strives to manage, direct, and promote all programs related to the Ohio Articulation and Transfer Policy.
Franklin University is consequently engaged because of its commitment to creating access to education, which mirrors Ohio's legislature's concerns over the ability of students to transfer effectively between Ohio's public post-secondary institutions of higher education.


Program Advisory Boards

Each of Franklin's academic programs has an advisory board that invites experienced business and community professionals, some of whom are Franklin alumni, to become part of the University's program and curriculum planning and review process to assure relevance and applicability to the discipline.
Additionally, each academic program engages with the industries for which its students are being prepared. The goal is to provide opportunities to enhance student learning and build strong relationships between the University and industry.


Special Improvement District (SID)

The City of Columbus' Discovery District Special Improvement District is a program by which Franklin has made broad-level commitments to the community at large through its endorsements and active participation. SID links multiple private security operations with one another and the Columbus Division of Police, the Franklin County court system, and social service agencies to provide a holistic approach to quality-of-life issues.

Through the SID safety program, Franklin contributes to the development of a safer environment for the more than 100 property owners in a 35-square block area of the city of Columbus, as well as the businesses that operate this district.
Read more about SID


Speakers Bureau

The Franklin University Speakers Bureau provides presentations of various lengths and topics by Franklin faculty and staff to members of central Ohio's civic, social, professional, and service organizations. Designed as part of the University's ongoing commitment to community involvement and development, the presentations are free of charge.
Speakers can be scheduled for meetings, conventions, conferences, and other gatherings. Bureau topics include:
Business issues
Career and workplace satisfaction
Communication and public relations
Leadership
Marketing and sales
Motivation and Team Building
Technology
For more information, email Jonathan Knight, Communications Coordinator.

Back to top


Technology Industry

Franklin's Computer & Information Sciences programs stay connected with the technology industry with events held throughout the year, which are open to students, alumni and the public.
Tech Connect Speakers Series – This series offers the opportunity for student interaction with professionals and practitioners in the technology industry. Tech Connect Speakers Series augments the learning experiences of Computer and Information Science students. Featuring successful professions who hold non-traditional roles in the information technology industry, the quarterly series is presented to computer science students and community members.
Topics covered have included:
Job opportunities in the current IT market
Trends and technologies that influence the IT industry
Preparation and interview techniques for employment in the IT industry
Check the Events page for any upcoming events.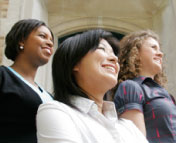 Ready to start an application?
Franklin's student-centered philosophy is one of the many reasons so many students choose us!
START YOUR APPLICATION