Events
Scholarship Forum

Email us your abstract
To participate, all abstracts
must be received by
August 30, 2013
We have experienced technical difficulties in receiving abstracts. If you did not receive a confirmation that your abstract was received, please re-submit and contact
Lisa Nevels-Johnson at
lisa.nevels-johnson@franklin.edu.
September 25, 2013
Ross Auditorium - Franklin University
Main Campus (downtown Columbus)
Poster Presentations: 3:30-5 pm
Keynote Speaker: 5-6 pm
The College of Health & Public Administration is proud to announce its inaugural Scholarship Forum. This forum will showcase the innovative and important scholarly work of full-time faculty, adjuncts, students, alumni, and community partners.
This first-of-its-kind Scholarship Forum will highlight scholarly contributions from a variety of fields and disciplines. Participants will illustrate their important work and research in a poster-style session to share their knowledge and discoveries beyond the individual and program.
During the poster session, you will be asked to spend part of the time in the vicinity of your poster to answer any questions others may have about it. You will also be able to view other posters and mingle with the participants and guests. We ask that you try to include your family, friends, and coworkers in this event.
To participate in the forum, please submit an abstract of 200 words or less by clicking on the "Submit Abstract" button above. All abstracts submitted will be considered by the Scholarship Forum Committee. If your abstract is chosen, you will be asked to prepare a poster and presentation.
Excellence in several categories will be recognized, including: Outstanding Student Submission, Faculty Adjunct Submission, Faculty Submission, and Excellence in Scholarship. All abstracts will appear in a booklet and be distributed during the event.
Participates can submit a Capstone or Thesis project, program analysis, application of best-evidence, research related to their field of expertise, or any research or substantial project in which a synthesized conclusion or hypotheses was reached.
Guidelines
• All abstracts must be 200 words or less
• All presentations must be in poster format and no larger than 4' x 4'
• All presenters must be available for comments and questions during the poster session
Tips for Writing an Abstract and Poster Presentations

Printing Posters
Posters may be printed through Franklin University for approximately $30.00 (3' x 4' poster).
For more information on poster printing, please contact Robert Donahue at robert.donahue@franklin.edu.
There are a limited number of scholarships available to cover the costs of having a poster printed (open to all participants). If you are interested in one of these need-based scholarships, please submit a 100-200 word essay on why your work merits a poster scholarship. You may submit your essay with your abstract or after your abstract has been accepted. Scholarship essays and abstracts will be accepted until Friday, August 30, 2013.
Contact Information
For questions about the event, participation, or submitting your abstract, please contact scholarshipforum@franklin.edu.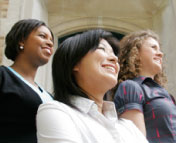 Ready to start an application?
Franklin's student-centered philosophy is one of the many reasons so many students choose us!
START YOUR APPLICATION