News & Events
News & Events
Franklin University - a Distance Learning "Best Buy!"
We are pleased to announce that Franklin's Online Bachelor of Science degree, Online MBA, and HR Concentration of the online MBA have all been awarded a "Best Buy" designation from GetEducated.com. This designation indicates that Franklin offers a high-quality distance degrees to a national audience at tuition and fee rates well below the national average. In a national biennial survey of 78 regionally accredited distance bachelor's degree programs in business and management, Franklin's undergraduate online programs are ranked within the top 40 most affordable. In a national survey of 165 distance-learning, accredited MBA programs, Franklin's online MBA concentration ranked in the top 40.
Franklin strives to keep education affordable at both the graduate and undergraduate level, giving students more access to their goal of a college education.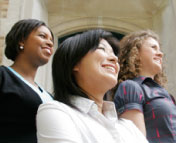 Ready to start an application?
Franklin's student-centered philosophy is one of the many reasons so many students choose us!
START YOUR APPLICATION