Doug Ross
For Immediate Release: May 28, 2008
Contact Sherry Mercurio, Director of Public Relations
Mercuris@franklin.edu, 614.947.6581
FRANKLIN UNIVERSITY'S FACULTY MEMBER
DR. DOUG ROSS NAMED
2008 OUTSTANDING MARKETING EDUCATOR
Columbus, Ohio - Franklin University, one of the leading educators of working adults in central Ohio, is pleased to announce that Dr. Doug Ross, Program Chair of the Master of Science in Marketing & Communication (MCM) Program at Franklin, has been named the 2008 Outstanding Marketing Educator by the American Marketing Association. Ross' nomination was based upon his contributions to the marketing field both in his work at Franklin University as well as his contributions to the Professional Certified Marketer Preparation Course that the Columbus AMA holds each year.

In addition to being named the 2008 recipient, Ross is the only award winner to be given this award more than once, having been honored with this designation a record three times since 1996 (1996, 2005, and 2008).

Each year, the Columbus AMA honors one individual as Marketing Educator of the Year, based upon nominations submitted from the community. The award is given to the nominee that has done the most to further marketing education in central Ohio, including teaching in a university setting, teaching outside of a university setting (seminars, etc.), research, and overall influence on marketing in the area.

Ross joined Franklin in 1996 as a full-time faculty member, teaching advertising and marketing. In 2000, he became the chair of the graduate MCM Program. He earned a doctorate in business administration specializing in marketing, a master's degree in business administration (concentration in marketing) and a bachelor's degree in Business Administration (concentration in accounting).
Prior to teaching at Franklin, he taught full or part time at Colorado State University, University of Northern Colorado, University of Colorado (Denver Branch), New Mexico State University and Chadron State College. Publication credits include the Journal of Business Ethics, Business Horizons, Journal of Nonprofit and Public Sector Marketing, and presentations have been made to various regional conferences.
Ross has more than 20 years of industry experience and consulting in both large and small corporate settings, as well as in goods and services marketing. He currently resides in Hilliard, Ohio, with his wife, Krista, and their two children.
Founded in 1902, Franklin University is central Ohio's leading and most experienced educator of adult students. Annually, more than 10,000 students attend Franklin, both on-campus and online. Franklin offers 19 undergraduate majors and three graduate programs, including the Vantage MBA®and graduates more than 1,500 students annually.
Media Relations | 201 S. Grant Ave. | Columbus, Ohio 43215-5399 | 614.947.6581 | fax 614.365.9019 | www.franklin.edu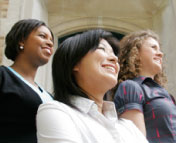 Ready to start an application?
Franklin's student-centered philosophy is one of the many reasons so many students choose us!
START YOUR APPLICATION