Settlement
For Immediate Release: July 22, 2009
Contact Sherry Mercurio, Director of Public Relations
Mercuris@franklin.edu, 614.947.6581
Franklin University Settlement Statement
INDIANAPOLIS and COLUMBUS, OHIO - The settlement agreement between Franklin University and Franklin College of Indiana is a satisfactory resolution of this lawsuit filed by Franklin College. Neither side admitted fault or liability, neither side will pay the other any money for damages, attorneys' fees, expert fees, or anything else, and both sides agreed not to make negative statements about the other.

From our point of view, we have only the highest respect for Franklin College of Indiana. Like Franklin University, Franklin College of Indiana is a non-profit institution with over one hundred years of experience and is fully accredited by the Higher Learning Commission of the North Central Association and by the state of Indiana. Franklin University has over 40,000 loyal alumni all over the country and the world, and Franklin College of Indiana likewise has thousands of loyal alumni.

Our two institutions are similar in another way: the sophistication of our students. Former Franklin College President Paul Marion observed that the students who consider attending Franklin College have a high degree of sophistication and are keenly aware of the types of services provided by Franklin College and by other institutions. The same is true of Franklin University's students, who clearly understand the alternatives available to them and are therefore unlikely to confuse a residential liberal arts college with a professionally oriented university serving working adult students whose average age is 33.

Our two institutions serve very different types of students with very different types of programs. Students under the age of 23 comprise less than 5 percent of Franklin University's student body, while Franklin College of Indiana primarily serves "traditional age" college students. Franklin College of Indiana is a liberal arts institution, while Franklin University's programs are in the professions. With an annual tuition of about $23,000, Franklin College of Indiana offers its services at a substantially different price level than Franklin University's annual undergraduate tuition of about $8,000.


For all these reasons, we see no basis for conflict or confusion between our two institutions and we are pleased that the settlement agreement has satisfied Franklin College of Indiana's concerns in this regard. As we go forward, our advertising will continue to emphasize our focus on adult students seeking high quality professional education, and will in addition stress our 107 years of community service in our home state of Ohio. Franklin University is excited to be able to offer its programs in Indianapolis and looks forward to making a significant contribution to the economy and society of central Indiana.

Dr. David Decker
President, Franklin University

About Franklin University

Founded in 1902, Franklin University is the leading and most experienced educator of adult students. Nationally recognized for its student-centered approach, the University offers accessible, relevant and high-quality education to more than 11,000 students annually, both on campus and online. Beginning this fall, Franklin University will offer 25 undergraduate majors and three graduate programs. The University graduates more than 1,500 students annually. Further information regarding Franklin University can be found at www.franklin.edu.
Media Relations | 201 S. Grant Ave. | Columbus, Ohio 43215-5399 | 614.947.6581 | fax 614.365.9019 | www.franklin.edu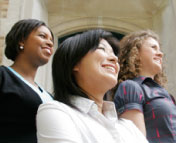 Ready to start an application?
Franklin's student-centered philosophy is one of the many reasons so many students choose us!
START YOUR APPLICATION