Top Military Friendly
For Immediate Release: December 16, 2008
Contact Sherry Mercurio, Director of Public Relations
Mercuris@franklin.edu, 614.947.6581
Franklin University Awarded
2008 Top Military Friendly
Colleges and Universities Designation
Columbus, Ohio - Franklin University, a leader in educating working adults, is proud to announce that is has been named one of America's Top Military Friendly Colleges and Universities by Military Advanced Education magazine. Honorees were selected by an independent panel of judges from the fields of both education and the military. Selections were based on each institution's favorable policies toward the men and women serving in uniform.

"This recognition is indicative of Franklin University's commitment to helping military personnel meet their academic and professional goals," said Darrin Adams, Franklin's Director of Military Relations and a retired U.S. Army veteran. "As a soldier, I found Franklin University to be an excellent fit for me and I am now personally honored to be able to assist soldiers with their education goals. Franklin's excellent programs and support system make every single student feel like a person, not a statistic."

Franklin University's roots are in serving adult students, who - like soldier students - have the ambition to continue their education in combination with other responsibilities. Since 1902, Franklin has been a pioneer in meeting the needs of busy professionals, most of whom work full time, raise families, and remain active in their communities while pursuing their education, be it an associate's, bachelor's, or master's degree.

To meet the unique needs of the soldier student, Franklin offers no-cost textbooks, an exclusive tuition discount for military family members, maximized promotion points and military transfer credit, a Military Scholarship Program, free online tutoring assistance, and is a member of the College of the American Soldier Program and Service Member Opportunity College (SOC) member.
About Franklin University

Founded in 1902, Franklin University is central Ohio's leading and most experienced educator of adult students. Annually, more than 10,000 students attend Franklin, both on campus and online. Franklin offers 19 undergraduate majors and three graduate programs, and graduates more than 1,500 students annually. Further information regarding Franklin University can be found at www.franklin.edu.
About Military Advanced Education
Military Advanced Education is the only magazine produced specifically for service members seeking to take advantage of the military education benefit. MAE covers issues and trends in distance learning and education as they specifically relate to military life, including innovative programs, military educational policy, financial aid, and coursework that offers special opportunities for military personnel.
Media Relations | 201 S. Grant Ave. | Columbus, Ohio 43215-5399 | 614.947.6581 | fax 614.365.9019 | www.franklin.edu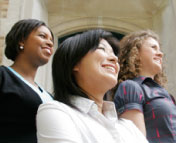 Ready to start an application?
Franklin's student-centered philosophy is one of the many reasons so many students choose us!
START YOUR APPLICATION