Technical Requirements
Technology Requirements for Online Learning
Franklin University encourages the use of electronic communication, technology, and computing for the purpose of instruction, administration, advancement, research, and study. Franklin's campus network and internet resources were designed and implemented to support and enhance the education of Franklin University students. Students are provided with technology resources in classrooms, kiosks, laboratories, and via the internet.
A wide variety of applications are available, including online courseware, scientific simulations, business applications, desktop publishing software, and a variety of programming environments.
Please note that students who do not meet the minimum application, OS, browser or hardware specifications other than listed as "required" below, risk not receiving assistance from the Help Desk. The following hardware and software requirements are applicable for all registered students:
General Technology Requirements
Minimum Hardware Requirements:
Dual Core processor at 1 GHz or faster
2 GB RAM minimum (4 GB+ recommended)
40 GB or higher of available hard drive space at the beginning of each term
DVD optical drive (needed for some courses)
1024 x 768 minimum resolution display
Microphone and speakers or headset
Broadband internet connectivity
Operating System and Software Requirements:
Windows 7 or newer
Microsoft Office 2013 (Word, Excel, PowerPoint, & Access)
Current version of Internet browser required (There may be better experience with Franklin resources in a specific browser):

Chrome
Internet Explorer
Firefox

Virus protection – updated and scanned regularly
Familiarity with firewall, pop-up blocker, and anti-spam software (if these applications are used)
Students who choose to use applications other than those listed do so knowing that faculty will be using the software listed above. It is the student's responsibility to create and distribute correspondence and shared files in a format that can be read by faculty and fellow classmates.
In order to use all of the Franklin-supplied technology resources, students must be able to load software on the computers they will be using. Some courses may require additional software. Technology changes rapidly – as a result, these requirements are subject to change.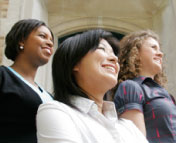 Ready to start an application?
Franklin's student-centered philosophy is one of the many reasons so many students choose us!
START YOUR APPLICATION