University Policies
University Policies
Safety and Security Services - Franklin University's Campus Security Act is available to all students, employees and applicants for enrollment or employment. Learn about the University's Campus Security Act.
Drug-Free Schools And Communities Act - Unlawful use, manufacture, distribution, dispensing, or possession of any controlled substance (drug) is absolutely prohibited on any University property or at any University sponsored event.
Student Parking Policy - Franklin University provides free parking on University lots for students when engaging in University business. Learn about the parking options available to you.
Student Code Of Conduct - Students are to become familiar with student conduct regulations and the Student Code of Conduct.
Information Technology Acceptable Use Policy - Franklin University offers students a multitude of technology resources for electronic communication, telecommunication and computing.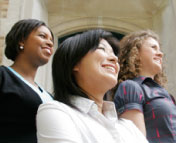 Ready to start an application?
Franklin's student-centered philosophy is one of the many reasons so many students choose us!
START YOUR APPLICATION