Drug-Free Schools and Communities Act
Prohibitions
The unlawful use, manufacture, distribution, dispensing, or possession of any controlled substance (drug) is absolutely prohibited on any Franklin University property or at any University sponsored event. The use, manufacture, distribution, dispensing, or possession of alcohol is prohibited on University property. The lawful use of alcohol at University sponsored off-campus events is prohibited unless specifically approved in writing by the President. A student admitted to Franklin University accepts the responsibility to conform to all Franklin University rules and regulations and to comply with the Student Code of Conduct. Proven failure to meet this obligation will justify appropriate disciplinary sanctions.
Health Risks
Government Warning:
According to the Surgeon General, women should not drink alcoholic beverages during pregnancy because of the risk of birth defects.
Consumption of alcoholic beverages impairs your ability to drive a car or operate machinery and may cause health problems. The above statements also hold true for the consumption of controlled substances as identified by the Ohio State Board of Pharmacy and include:
Schedule I:
Drugs
Schedule II:
Drugs
Schedule III:
Drugs
Schedule IV:
Drugs
Schedule V:
Drugs
Cannabis
Hallucinogens
Narcotics
Amphetamines and
related stimulants
Narcotics
Barbiturates
Cocaine
Crack Cocaine
PCP
Angel Dust
Doridan
Noludar
Darvon
Talwin
Placidyl
Dalmane
Librium
Valium
Serax
Fiorinal with
Codeine
Legal Sanctions
Applicable legal sanctions under local, state, or federal law for the unlawful use, possession or distribution of illicit drugs or alcohol are set forth in the referenced laws and are available upon request from the Office of Community Standards.
State
Ohio revised Code Chapters:
Federal:


2925 - Drug Offenses
3719 - Controlled Substances
4301 - Liquor Control Laws

Federal (Harrison) Narcotic Act
Federal Narcotic Drugs
Import and Export Act
Federal Food Drug and Cosmetic Act
Federal Alcohol Administration
AWARENESS PROGRAM
Any student seeking assistance with an alcohol or substance abuse problem should contact the Office of Community Standards at 614-947-4700 or at advocate@franklin.edu. Franklin University does not offer professional counseling or rehabilitation services, but referrals will be made to outside agencies. Students are responsible for costs associated with such services.
Any staff or faculty member who desires assistance with an alcohol or substance abuse problem should consult the appropriate employee manual for information regarding such services. Questions or concerns regarding University policies should be addressed to the Executive Director of Human Resources at 614-947-6540.

Franklin University does not discriminate on the basis of age, religion, race, ethnicity, color, national origin, ancestry, immigration status, sex, sexual orientation, gender identity or expression, marital or family status, disability, or veteran or military status. Further, Franklin University complies with applicable state and local laws governing non-discrimination in employment in every location in which the University operates.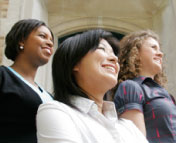 Ready to start an application?
Franklin's student-centered philosophy is one of the many reasons so many students choose us!
START YOUR APPLICATION