Center for Career Development Events Calendar
Events for students and alumni are a core component of the mission of the Center for Career Development. Check out the upcoming events on our Center for Career Development calendar.
Have questions about an upcoming event? Email us today.
Events
Calendar
Date & Time
Event
Location

Tues. Sept. 20, 2016

6:00-7:30 pm

Job Search Strategies

Speaker: Holly McFarland

Selling Yourself for the Job You Want

MainCampus, Downtown Columbus, Room TBA

Tues. Dec. 6, 2016

4:30-6:00 pm

Save the Date!

Franklin University Job Fair

MainCampus, Downtown Columbus, PhillipsHall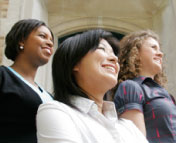 Ready to start an application?
Franklin's student-centered philosophy is one of the many reasons so many students choose us!
START YOUR APPLICATION