Recruiting students from Franklin University for your organization
If you're looking to hire great talent at your organization, put Franklin to work for you. Through our Center for Career Development, talent managers across the country have recruiting access to a vibrant pool of prospective employees ready to put their Franklin education to work.
Should I be recruiting students from Franklin University?
Just as we serve our students, we also serve local organizations interested in attracting well-qualified, well-educated professionals by recruiting from academic institutions. Our Center for Career Development is designed to help connect students with organizations that fit their academic and career interests.
When you start recruiting from Franklin, you'll quickly learn the value of having a Franklin student or graduate on your team. Our working-professional students can bring fresh thinking from the classroom into your organization. They are prepared for today's rapidly changing workplace because we provide them with relevant curriculum that is immediately applicable. They are skilled at balancing work, school, and life, and eager to build a rewarding, meaningful career with your organization.
Why recruiting from Franklin University is a good idea
Recruiting employees at an accredited school with a reputation for delivering value and excellence makes good business sense. You can put our academic knowledge and expertise into practice by tapping into our students as a resource.
We want to understand your organization – your culture, your goals, your needs. Our goal is to connect you with ambitious students and graduates, who possess the knowledge, experiences, and skills to serve your company, now and into the future.
If you would like to participate in a Franklin Career Fair or host an on-campus Information Session for your organization,contact Holly McFarland at 614.947.6799.
Businesses or recruiters interested in posting a job or internship opening on the Franklin website can get more information by clicking here.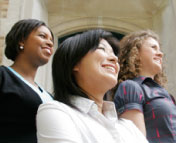 Ready to start an application?
Franklin's student-centered philosophy is one of the many reasons so many students choose us!
START YOUR APPLICATION