Franklin University Coaching
As a Franklin student, you have access to free coaching services designed to help you achieve your fullest potential. Coaching is a collaborative relationship that creates an ongoing practice of personal and professional development. Through discovery and strategic action, effective one-on-one coaching provides you and your coach with opportunities to learn and grow together.
Personal Development Coaching
Personal Development Coaching closes the gap between where you are now – and where you want to be. Through a professional coaching relationship with an experienced Franklin graduate, you will be challenged to go beyond self-imposed limitations to achieve your academic goals. Together, you'll break down barriers to student success and find ways to effectively balance your education with your busy life.
A Personal Development Coach will help you:
Learn to balance work, school, and life
View the world through new lenses
Boost your self confidence and awareness
Interact with an objective source of encouragement, support and challenge
Achieve your academic and personal development goals
Read the Personal Development Coaching Guidelines.
Have questions? Read our Personal Development Coaching FAQs.
Career Coaching
Career coaching is available to all students through the Center for Career Development.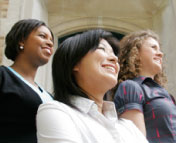 Ready to start an application?
Franklin's student-centered philosophy is one of the many reasons so many students choose us!
START YOUR APPLICATION