New Student Orientation
Welcome to Franklin!
New Student Orientation Materials
Congratulations! You have decided to take the next step on your path to success by continuing your education at Franklin, and we're here to guide you through your learning experience.
For your convenience, orientation materials are provided in an interactive format by accessing the Undergraduate New Student Orientation login page. By logging in with your myFranklin user name and password, you will be presented with information regarding Franklin's student services, policies and procedures to help you get started here at Franklin.
Best wishes as you embark on your educational journey! To share your experiences or to let us know how we might better serve you, please e-mail advising@franklin.edu.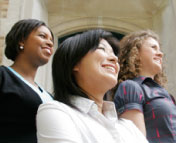 Ready to start an application?
Franklin's student-centered philosophy is one of the many reasons so many students choose us!
START YOUR APPLICATION